Australia is exploring possibilities of building better ties between its world-class firms and rapidly growing Indian automotive industries to create new export opportunities and help secure the ongoing strength of the multi-billion-dollar auto industry there.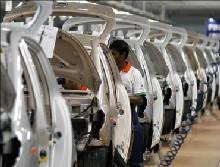 Australian Minister for Innovation, Industry, Science and Research Kim Carr, who is on a three-day maiden visit to India told media on Monday that his country was looking to build closer links between their innovative automotive companies and the Indian market.
"With the help of the Australian Government's 'a New car plan for a Greener Future',our auto industry has not only survived the global economic downturn but is transforming and becoming a world leader in new technology," Carr said.
"This expertise makes our companies attractive partners for international companies including India," the minister said after meeting Indian car manufacturers including Mahindra & Mahindra and Tata Motors.
Indian companies can especially benefit from new innovations in aerospace industries (in which Mahindra Group is keen) also without any Intellectual Property rights issues especially in building aeroplanes and turbo propellers partnering with Australian industries to produce and supply the world market, he said.
The Indian automotive and other industries using innovations done in Australia for scaling up and manufacturing parts can benefit with its newly introduced R and D Tax Credit Legislation, Carr said.
The minister further said the Indian automotive industry wanted to develop more vehicle design, manufacturing processes and low emission technologies and Australia is well placed to provide these innovative products.
"Earlier this year, I opened a new facility at SMR Automotive Australia, an Indian owned company based in South Australia. This venture is creating new Australian jobs, skills and products through design and production of world class lightweight mirrors for cars," he added.
He also met scientists and innovators from Indian Institute of Technology who already have collaboration with Monash University of Australia.
"We are exploring in several areas of research collaboration," he said. Other industries whom Carr will meet in New Delhi included the Society of Indian Automobile Manufacturers, Automotive Components Manufacturers Association of India.
He will also meet the Commerce and Industry Minister Anand Sharma, Telecom and Human Resource Development Minister Kapil Sibal and Science and Technology and Earth Sciences Minister Vilasrao Deshmukh on Tuesday.
The Minister will also be meeting the WIPRO officials in Bangalore to enhance the relationship in the field of innovation and Information and Communication technologies. Australia is also formalising bilateral comprehensive Free Trade Agreements with India for opening more trade opportunities for both the countries, he said.
Carr said last year's strategic framework effort by India and Australia could establish 50 per cent of diplomatic relationship.
However, relationship with India needs more attention as we have to gain a lot through science and research and Industry collaboration, he said.
Meanwhile, the Consul General of Australia in Mumbai Stephen Waters said during the last 12 months several high level exchange took place between the two countries and in the coming six months more delegations from different parts of Australia are expected to enhance the relationships and improve trade.