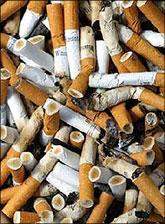 Australia has become the first country to initiate a new law proposing strict packaging rules for tobacco companies to sell their cigarette packs 'plain' without display of logo or imagery on the cover by January 1, 2012.
The ruling Labour party is expected to formally unveil plans today to make plain packaging compulsory apart from raising the tax on cigarettes by at least 25 per cent from Thursday night.
The government is also planning to impose curbs on internet advertising for tobacco products, the price for a pack of 30 cigarettes will now be around $2.
Under the new legislation tobacco companies could only print their brand name in a specific style and will be forced to remove all coloured logos and imagery from 2012.
However, health warnings and graphic pictures depicting the dangers of smoking will remain, ABC report said, adding the suggestion was a part of recommendations of National Preventative Health Taskforce.
Backing the plan Prime Minister Kevin Rudd said, "The big tobacco companies will hate what we are doing. The government however makes no apology what for what we are doing, it is the right decision."
"Cigarettes are not cool, cigarettes kill people," he said, adding that "this will be the most hardline regime for cigarette packaging anywhere in the world."
According to Mike Daube of Curtin University the decision would a huge breakthrough.
"We can be absolutely sure that this will accelerate the decline in smoking," he said.
The move has garnered support from other political parties including the Australian Greens giving the government the numbers to have the law passed by the senate.
Meanwhile, tobacco companies already are preparing to mount a legal challenge to the government's plan.
Imperial Tobacco Australia will contest the legislation, they maintained that plain packaging will affect brand value, badly hit the profit margin of the companies.
"Introducing plain packaging just takes away the ability of a consumer to identify our brand from another brand, and that's of value to us," an official told ABC radio.
"It really affects the value of our business as a commercial enterprise and we will fight to support protecting our international property rights," she added.
In Australia over 15,000 people die each year from illnesses related to smoking New Zealand too hiked the cost of cigarettes by 10 per cent on Thursday.