A Planning Commission expert group on Tuesday recommended that all mergers and acquisitions (M&As) in the pharmaceutical industry should be cleared by competition watchdog, CCI to ensure that such deals do not result in monopolies and increase in drug prices.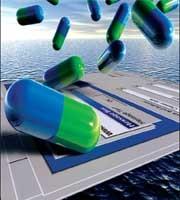 Head of the group and Planning Commission Member Arun Maira said that the M&A deals in the crucial health sector should not be left only to the Foreign Investment Promotion Board (FIPB), since it does not follow a "not a transparent" process.

"We need a filter definitely...because we want to be sure that drug prices don't go out of control as a result of any monopolistic market," Maira told reporters.

He said the Competition Commission of India (CCI) should be a better gateway than the FIPB, "considering that the FIPB is an old and not a transparent process".

Besides, an oversight by an anti-trust body is in vogue in several countries like Japan and the European Union, he said.

Another problem with the FIPB, an inter-ministerial body of senior officials is that once a proposal is cleared, "it cannot go further". On the other hand, CCI is a " transparent and pretty sophisticated instrument," Maira said.

The Planning Commission expert group,
comprising officials from different ministries held exhaustive discussions on changing dynamics of the Indian pharmaceutical industry and prices of generic drugs, following a spate of acquisitions of the domestic firms by foreign companies.
Some sections in the government like the Health Ministry have suggested that the foreign direct investment (FDI) should be capped at 49 per cent in the pharmaceutical sector.
However, the Finance Ministry is opposed to the idea and does not want to roll back the policy of 100 per cent FDI through an automatic route.
The Industry Ministry, is also for retention of 100 per cent FDI but wants all the deals to be scrutinised by the FIPB.
The recent buyouts of the Indian firms by multi-national firms included takeovers of market leader Ranbaxy Laboratories by Daiichi Sankyo of Japan, Shanta Biotech by Sanofi Aventis of France, Piramal Health Care by Abbot Laboratories of the US.
Also, Matrix Lab and Orchid Chemicals were bought over by Mylan Inc and Hospira of the US, respectively. Dabur Pharma was acquired by Fresenius Kabi of Singapore.
Under the present CCI dispensation, the watchdog clearance is required only for the M&As where the parties to the acquisition have assets of more than Rs 1,000 crore (Rs 10 billion) or turnover of more than Rs 3,000 crore (Rs 30 billion).