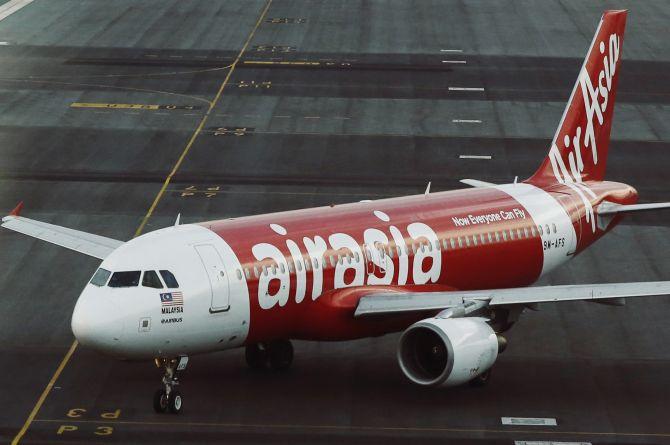 Malaysian no-frills carrier AirAsia Berhad -- which runs a joint venture airline with Tata Sons in India -- and civil aviation authorities in the Emirates on Saturday prohibited the use of Samsung Galaxy Note7 mobile devices on their flights.
AirAsia has also banned the use of Galaxy Note 7 on some of the subsidiary airlines, including AirAsia India, while Emirates banned its use on all its national carriers because of the risk of batteries exploding in the 'phablet' smartphone.
'The decision to prohibit the use of the Samsung Galaxy Note7 mobile devices was taken in the wake of its recall due to safety concerns over the battery issue,' AirAsia said in a travel advisory, issued on Saturday.
'Following the recall of the Galaxy Note 7 mobile device by Samsung due to safety concerns over its battery, AirAsia and AirAsia X would like to inform all guests that the usage and charging of the device onboard all our flights are prohibited with immediate effect until further notice,' it said.
A statement issued by Emirates, and carried by the official WAM news agency, read, 'The General Civil Aviation Authority has banned operating, charging and carrying in bags the Samsung Note 7 on board national carriers' flights.'
Samsung last week suspended sales of its latest flagship smartphone and announced a recall of 2.5 million units already sold, after faulty batteries caused some handsets to explode during charging.
Since then, airlines or air safety agencies around the world have warned passengers against using them on flights.
All guests travelling on AirAsia and AirAsia X with a Samsung Galaxy Note 7 must turn it off until disembarkation from the aircraft, it said adding the device must not be kept in any checked baggage as well.
The travel advisory from AirAsia and Emirates comes a day after the Indian government prohibited the use of Samsung Galaxy Note7 devices on board an aircraft.
AirAsia currently flies to six destinations -- Bangalore, Kolkata, Chennai, Hyderabad, Visakhapatnam and Trichy -- while AirAsia X flies to New Delhi.
With inputs from agencies.