Air India is set to open an engineering base in Dubai to help streamline the airline's operations in the Gulf sector, its chairman and managing director Arvind Jadhav has said.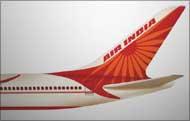 Jadhav said the airline proposes to put five aircraft on standby in Dubai to solve emergency technical snags.
The base is likely to be set up either in Dubai or Sharjah depending on the cost factor, he told media persons in Dubai on Wednesday.
The national carrier, Jadhav said, will also lease out five new aircraft besides opening a 24-hour toll free call centre to disseminate information, Jadhav said, adding that there is a potential to add 200 flights in this region.
Speaking to PTI later, Jadhav said the airline has been looking inward during the last two years, which didn't help important markets such as the Gulf.
"We are looking to increase our services in this region by 15 per cent than what it used to be two years ago," he said.
On the issue of unionism, he said that problems at hand were not being duly dealt with.
"It has taken one year for me to convince employees that we have a problem and we need to sort it out. We need to change the way we have been working. We will have to bring a lot of training into picture," he said.
On making Dubai as a base, Jadhav said he has succeeded in convincing the management and steps are being taken in this direction.
The decision in this regard was made during a meeting with the regional manager and station managers of the airline from eight Gulf countries and its director board member M A Yusuffali in Dubai on Wednesday.
"We are making efforts to include white collar workers in our scheme of things. You are going to see a lot of changes by the time Commonwealth Games take place," he said.