State-run carrier Air India will seek "at least Rs 200 crore" from Boeing Co. to compensate for the losses it incurred due to the grounding of its 787 aircraft, said a senior Air India executive familiar with the matter said. Air India has six 787 aircraft in its fleet.
While the compensation is yet to be finalised, the carrier will raise the claim with Boeing shortly, said the official. G. Prasada Rao, a spokesman at Mumbai-based Air India, did not respond to calls made to his mobile phone. Boeing, too, did not immediately respond to an e-mail questionnaire.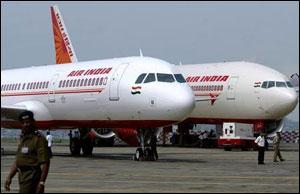 Air India might resume local flights of the 787 later this month after the plane maker carries out safety modifications to the plane's batteries, said the official. Air India used to fly its 787s on three domestic and three international routes. It is now using narrow-body Airbus A320s on the domestic sector and has deployed Boeing 777s on the Frankfurt and Paris routes.
Due to non-availability of trained Boeing 777 pilots, the airline was forced to cancel or combine flights to Europe and Tokyo. The fuel burn on Boeing 777 is higher than Dreamliner, which is billed as 15 percent more fuel efficient.
AI was due to receive two more 787s by March and the deliveries, too, have been deferred. It has 27 Boeing 787s on order.
Boeing has asked FAA (Federal Aviation Administration) to allow test flights of the 787 Dreamliner, while investigators work to uncover the source of the aircraft's battery problems. "Boeing has submitted an application to conduct 787 test flights and it is currently under evaluation by FAA," said Boeing spokesman Marc Birtel.
Boeing's global fleet of Dreamliners was grounded following a battery fire on an All Nippon Airways' jet. Boeing has added safety modifications to the batteries and it plans a second 787 test flight before submitting the changes to the FAA as it seeks approval to restore the grounded planes to service.