Cash-strapped Air India is in the process of finalising appointments to three key managerial positions which would put an extra annual burden of about Rs 3.5 crore (Rs 350 million) annually, sources said.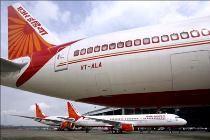 The appointments are for the posts of the Chief Executive Officer of Air India Express, Chief Training Officer and Chief Information Officer for Air India.
The sources said the CEO of the airline's low-cost arm and the CTO would be paid eight times the salary of the CMD and 10 times that of the functional directors as they are being hired on a package of Rs 1.9 crore (Rs 190 million) and Rs 1.20 crore (Rs 120 million).
The CIO is understood to have been offered a package of Rs 45 lakh (Rs 4.5 million) annually.
With a meeting of the Air India Board slated on September 28, the management is expected to seek approval on the appointments of Capt Pawan Arora as Air India Express CEO, Stefan Sukumar and Kamaljit Rattan as Chief Training Officer and Chief Information Officer respectively, the sources said.
However, the proposed appointment of former IBM Executive Karan Khara as Air India's Chief Strategy Officer has been put on hold following reservations expressed by an independent director and a senior civil aviation ministry official, they said. Khara is already part of the airline's strategy team.
The Human Resources Committee of the National Aviation Company of India Limited (NACIL), which runs Air India, recently cleared the names of Arora, Sukumar and Rattan, the sources said.
Arora is currently fleet captain in budget airline IndiGo, while Sukumar is working with the engineering arm of Lufthansa Technik. Rattan is a former journalist and was till recently Corporate Communications head of Reliance ADAG.
Incidentally, if the Board clears Arora's appointment, he would be the second official from Jet Airways to have joined Air India, after Chief Operating Officer Capt Gustav Baldauf.
After quitting Indian Air Force as Wing Commander, Arora joined Jet. He has also served in Paramount Airways and Kingfisher Airlines before joining IndiGo.
Earlier, Air India had appointed Capt Baldauf as Chief Operating Officer on a package of around Rs 3 crore (Rs 30 million).
Ironically, the management is seeking these appointments at a time when it plans to reportedly renegotiate wage agreements with trade unions in the company to cut costs, they said.
However, top civil aviation ministry officials have said the Cabinet note, seeking Rs 1,200 crore (Rs 12 billion)as fresh equity induction in Air India, does not speak of any wage renegotiation at this stage.
But it has been made clear to the airline that fresh equity infusion would come only on the condition that costs are reduced.