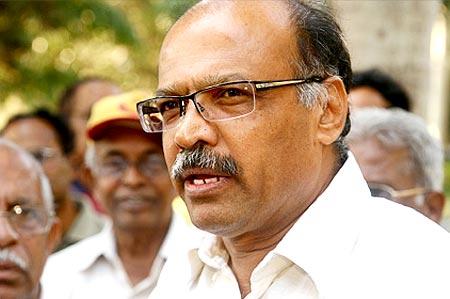 Capt Gopinath, in a desperate bid to fend off a possible auction of his prime residential property in Bangalore by State Bank of India, which had earlier issued notices to sell his pledged properties to recover as much as Rs 259 crore (Rs 2.59 billion), has struck a deal with Sobha Developers to raise funds.
In a recently concluded transaction, Sobha is understood to have acquired Gopinath's property, spread over 16,200 sq feet in one of the premium localities in Bangalore, where the price starts at around Rs 21,000 per sq ft.
The property, located off Vittal Mallya Road, is valued at around Rs 40 crore (Rs 400 million), according to sources.
Sobha, one of the largest publicly-held realtors in India, has got the title deeds, but not yet decided how the same will be developed in the future, they added. While senior management officials of Sobha confirmed the transaction, Gopinath could not be reached for comments.
The deal was precipitated after an initial agreement between Gopinath and another prominent realtor pair, Raj Menda and Manoj Menda, managing directors of RMZ Corp, fell through. As part of the earlier transaction, Gopinath was supposed to spin off this property into a joint development, an aspect to which SBI was not happy with.
Gopinath's property, ironically, is adjacent to UB Group chairman Vijay Mallya's family bungalow, which was also razed to make way for an uber-luxurious apartment complex to free UB Group from some of its debts, taken for the grounded Kingfisher Airlines.
The property sold to Sobha is technically owned by Gopinath's wife, Bhargavi Gopinath, and was pledged to SBI in lieu of the debt raised to expand the services of Deccan Cargo, which he launched after selling Deccan Airlines to Kingfisher Airlines.
SBI, the country's largest lender, had earlier issued public auction notices to sell Gopinath's pledged properties, owned by his family members as well as Deccan Cargo, to recover as much as Rs 259 crore. While Gopinath, through this transaction with Sobha, managed to stave off the auction of his residential property, he will still have to work out ways to clear the rest of the debt.
Gopinath is understood to have raised close to Rs 500 crore debt for Deccan Cargo and close to Rs 135 crore (Rs 1.35 billion) from Reliance Industries through the equity route. "While the concept of connecting industrial towns to cities through the air cargo route had immense potential, the execution did not fall into place, as a result of which the venture went into a tailspin and had to be suspended," a senior industry analyst explained.