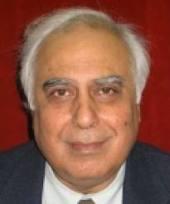 Amid perceptions that fully opening up telecom sector will risk security, Telecom Minister Kapil Sibal said on Tuesday the real concern is on the imported equipment side which can be addressed by setting up manufacturing plants in the country.

"100 per cent FDI has nothing to do with security. Telecom Ministry fully supports 100 per cent foreign direct investment in telecom. Real security issue is on the manufacturing side," Sibal told reporters.

The Ministry of Home Affairs in the past has raised concerns on increasing FDI in telecom sector.

Sibal said concerns are due to imported equipment used in the network. "Security issue is what I am trying to address. . . bring component industry here, set up fab factory (electronics chip plant) in India, have your Preferential Market Access policy)," he said.

The Prime Minister's Office has put on hold further implementation of PMA policy that provided for sourcing of sensitive telecom and electronic equipments and technology from domestic manufacturers over security concerns.

Sibal said the government has not changed anything in the policy and only new notifications have been put on hold as there were some concerns raised on it.

Domestic telecom manufacturers body TSDM Association, in its letter to Prime Minister Manmohan Singh has said the current telecom systems are highly sophisticated.

Use of complicated chips can be manipulated to intercept sensitive information or cause catastrophic damage to critical equipment, it added.

Private sector dominates Indian telecom market with with 80 per cent market share. According to telecom regulator Trai, only 12-13 per cent of all local products made with the aid of foreign vendors were used in the sector during 2009-10.

However, purely India-made products formed just 3 per cent of the market. Talking about private procurements being kept out of PMA, he said the government is working on a fresh Cabinet note and will look at the issues involved.
Image: Kapil Sibal