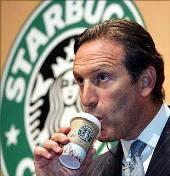 The thoughtful leader accepts that tough choices must sometimes be made in the short-term to ensure a successful future. Exceprts from the interview with Howard Schultz, chairman, president, CEO, Starbucks.

Do you think entrepreneurs make better CEOs than professional managers?

I can't speak for other leaders, but I do know that my own past greatly influences my own leadership.

I never went to business school, so I don't have the formal education that many people running large companies have.

But like many retail entrepreneurs, I am truly a merchant at heart and have always had an intuitive sense about our business, which has continuously informed my ongoing experience at the company.

That said, leaders must often make decisions without complete information, especially during times of crisis, and I do not believe formal schooling can prepare a leader for such unpredictable challenges.

More important than business education is, I believe, staying true to one's core values, communicating with authenticity and transparency, listening with empathy and being decisive once a path forward is chosen.

So, when is the ideal time for a founder-CEO to give up his lead role and take a back seat? There is probably no ideal time for an entrepreneur to make this delicate transition, and I can only speak from my experience.

When I began my journey at Starbucks in the 1980s, my desire was to bring the experience of the Italian espresso bar to the US and grow a company that adhered to a specific set of values, one that tried to balance profitability and benevolence.

Many people told me my ideas would never succeed, so my belief in the Starbucks mission was critical to bring other people along.

By the time I decided to step down as CEO and become chairman to focus on our international growth, the Starbucks culture were firmly established in the marketplace and in our company, and no longer required my day-to-day oversight.

That said, I did return to lead the company eight years later when I, as well as our board, sensed that the company's core mission and culture were in jeopardy as we pursued growth at all costs, a mistake we will not make again.

You said, "Leadership is about instilling confidence in others." Doesn't your decision to return as CEO from being a founder chairman run against this proposition?

My decision to return as CEO was actually based on respecting the trust that the 200,000 partners who worked for Starbucks had in the company, and in me.

I felt I had a very real responsibility to them, as well as to their families, to ensure that Starbucks did everything it could to maintain its leadership as a respected global brand, and a profitable business.

In that sense, Starbucks was slowly losing the trust of our customers and our partners, and I felt that it  was my responsibility to re-instill it, which I believe we did by re-focusing on our core values, the essence of the Starbucks experience in our stores, and our innovative roots.

I could not do this by myself, of course,so I had to place a lot of trust in a team of talented, like-minded leaders that shared my unwavering commitment to our people, the quality of our coffee, and the experience we wanted to provide to our customers.

How can entrepreneurs successfully turn around an enterprise from the very top without getting blinded by their emotions and their love for the enterprise they founded?

I think this requires a combination, and balance, of two things: love and responsibility.

In my book, Onward, I wrote that when we love something, emotion often drives our actions. This reality is the gift and the challenge entrepreneurs face every day.

The companies that entrepreneurs such as myself dream of and build become part of us and are like our families.

But just as raising children often requires parents to make difficult decisions for the benefit of the son or daughter they love, so too must a business leader make tough decisions to ensure the health of the enterprise and the people who work for it.

Often, those choices are not immediately understood, and they can be painful for some, but the thoughtful leader accepts that tough choices must sometimes be made to ensure a successful future.

You had built a successful company and moved on. How difficult it was in your second innings as a CEO, to return the company to its core values? Which is the tougher task -- building a successful enterprise or engineering a turnaround?

It's a great question, and having done both I would say that each experience had its unique and inherent difficulties, as well as its joys.

There were, however, similarities.

Building the company and later transforming it (I never called it a turnaround) both required unwavering commitment to the quality of Starbucks coffee and an absolute belief in the power of our brand, our founding values, our baristas and the experience we create for our customers.

Building as well as transforming Starbucks both attracted believers whom, like great sports teams, wanted to win.

At the same time, both processes invited naysayers who insisted we would not be successful in our endeavours.

Among the differences, building a company from a few stores to thousands in dozens of countries was exhilarating and brought with it a tremendous sense of accomplishment with every new store we opened.

I can remember as if it was yesterday, the raw energy and excitement that came from trying to create something no one had ever done.

A similarly powerful energy emerged when we were working to transform the company. But like turning around a big ship in a storm, versus building one from the base up in calm seas, the transformation had its own flavour of risk.

First, there was much more at stake because we had 200,000 employees and their families that were counting on us to succeed.

Second, optimism for what we needed to accomplish was in many ways harder to muster inside and outside the company during the transformation.

Unlike a small enterprise that attracts like- minded individuals, we had some people in leadership positions that did not wholly share my vision of Starbucks future.

Outside the company, expectations were already high because we had established a beloved brand, and customers as well as shareholders had come to expect a lot from us.

As we started to falter, the public criticism was loud and palpable.

We were also disappointed in ourselves, and had to admit we had made some mistakes.

But during that time, the entrepreneur in me was also fuelled by feeling like an underdog.

Once again, I was driven to prove that our company could achieve what others said was impossible. I think people underestimated the resiliency of the brand and of our people.

No doubt, Starbucks is a stronger company because of the transformation.

What does it take to be a successful leader in these times of slowing economies and constant change?

These are indeed complex times on many fronts.

One thing I have learned during Starbucks own trials is that success has a way of covering up small failures, while tough times tend to reveal them.

In today's challenging world, where so many cracks in business and otherwise are indeed revealing themselves, I believe we need leaders who strive to stay authentic to their convictions; are willing to speak openly about harsh, even unpopular truths; are collaborative in their approaches to solve problems; are innovative in their search for new solutions; and disciplined in their execution.

Leadership requires humanity, which means having compassion for people, while simultaneously inspiring them with purpose and confidence to rise above present circumstances and envision a fantastic future.

In that regard, today's leaders must also be optimistic.

If I have learned anything in the past few years, it is that challenging times can also be great opportunities.

You have spoken at length about the Starbucks experience in your book. How important is customer experience for a brand's survival?

Creating a unique and relevant experience for customers in our stores has been the foundation of Starbucks since I first experienced the power of community in Italy's traditional espresso bars.

Therefore, creating and maintaining a fantastic customer experience is critical not just for a company's survival, but to its sustainable growth.

Yes, Starbucks is a coffee company, but we are also a company committed to fostering and honouring communities, in our stores and in the neighbourhoods where we serve.

The moments of connection that our baristas create with our customers, day after day, and the connections our customers create among themselves -- in our stores and now online -- differentiate our brand and experience, making us so much more than just a coffee company.

Because of the change in consumer behaviour, the challenge for any company is to continue to create relevant customer experiences online while staying true to the company's values.

How Starbucks shows up on Facebook, for example, contributes to the overall experience of being a Starbucks customer.

A brand's experience is not just about the medium -- a store or a website.

It is also about something less tangible -- values.

Shifts in consumer behaviour include an increased desire to support companies that reflect people's heightened values.

Ethically sourcing our coffee, our Create Jobs programme in the US, and our support of local communities such as  developing a cultural hub in Horniman Circle in Mumbai, India, where local artists can come together, is part of the overall experience that, we believe, our customers want and deserve, in addition to great coffee.
Image: Howard Schultz