Shiv Kumar, chief executive officer of the San Jose, California headquartered Cybernet Software Systems Inc was in Chennai to announce the company's decision to hire 300 more IT professionals in India. This took the total headcount to 750.
CSS Inc. has 27 clients, including Business Signature Corporation, a US company that provides end-to-end solutions for online application and infrastructure management, and Navic Networks, a leading interactive TV technology and service provider to the US cable industry.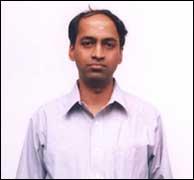 The CSS group employs 3,000 people worldwide for its four companies. It has offices in San Jose, New York, London, Singapore and Chennai.
The four different arms of CSS are:
ManageInfra the infrastructure management services division

ReadyTestGo provides QA & testing services

SlashSupport for 24x7 technical support and helpdesk services, and

Synaptris for enterprise reporting and printing solutions.
In an interview with Shobha Warriar, Shiv Kumar talks about India's position as a service provider and a centre for product development, and also about his future plans. Excerpts:
Do you feel Indians are entrepreneurial in nature?
Yes, if you look at the successful and failed start ups, you will find a significantly high percentage of Indians involved. I think there is a history behind it as well. First of all, Indians are a conservative lot. If Indians are willing to take a risk, the probability of success is high. Venture capitalists have confidence in Indians and feel that they (Indians) will not squander money.
What prompted you to start Cybernet Software Systems Inc?
Pure accident! I was working at the ICICI Bank then, and when I was transferred out of Chennai, I took a sabbatical. My employers were very co-operative and allowed me to be on paid leave for about a year.
In those nine months, I went to Stanford to do some part-time research. When I saw Silicon Valley, I felt I too must start something on my own.
In the US ideas are rewarded if they are useful. It would have been difficult for me to experiment with an idea in Europe. Probably, even difficult in India though things are changing here. The true capitalist market of the US gave me courage to experiment. People are willing to give you money to experiment and people are willing to buy new ideas. Only in the US, will people try out new things. They will even buy products from companies that are unknown. I think it is the nature of the country itself that makes them do this.
Why did you decide to have four companies instead of one?
When we started our company, we were a very small player. Even today, we are not a big player. We realised that we did not stand any chance against competition unless we were identified to be very good. Why do people pay McKenzie a million dollars for advice? Because it is McKenzie.
So, we said, let's do a few things, and do them really well. If you look at Readytestgo, we think we are a leader in performance engineering. We are proud to say that we can compete with anybody from India.
As far as Slashsupport is concerned, we compete with Tier One vendors from a support perspective. We really feel proud of our product company, Synaptris . It has 2000 customers and 250,000 users.

We feel we are unique.
Which according to you are the real growth sectors?
My best bet is Slashsupport, the business process outsourcing arm. We have 300 people for each customer. This is not in anyway taking off attraction from either CSS or Readytestgo because these companies have also grown reasonably well.
Today the buzzword in India is probably more BPO than development. All our four companies are small, and all of them have opportunities to grow in the next few years.
Is India viewed as a destination where you can develop products?
Yes. I will give you just one example. i-flex. i-flex being purchased by Oracle for close to a billion dollars indicates that India can develop products. Infosys, too, has a very good revenue stream coming from Finacle.
Does US still perceive outsourcing as 'dirty'?
I think the word 'dirty' is wrong. People were losing jobs. Had it been any other country, it would have resorted to protectionist measures. America did not do that. All they did was cut down on H-1 visas.
When that happened, US corporates said, 'we will do more off-shoring'. It actually helped India. US is a true capitalist nation and it will finally do that which is profitable. When companies deliver wealth, it goes back to the country.
India's future is in servicing or product development?
Out of the $17 billion revenue, BPO contributed $6 billion and $9 billion came from software development, maintenance and Cobol. I think we can predict a 30-35 per cent growth in the next 3-4 years. Getting to $30-35 billion is not difficult for this sector.
A recent report compared working conditions in call centres to those in Roman slave galleys. Your comment…
People of Chennai always complained of water scarcity. Now that the city is flooded because of heavy rains they are again complaining. It's better to have floods for five days than no water for 12 months! That's exactly the situation.
You go to a developed economy like the US, people work night shifts, people plan and balance their lives. I think in India, we have something called exuberance. A lot of people suddenly got jobs; they will settle down soon. Today in India, 5-day week is a norm. Was there any 5-day week in the private sector 10 years back? I think adjustments will automatically happen. The management is quite good, and I don't see any major problem.