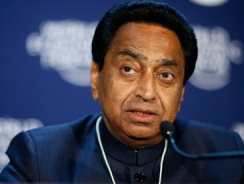 Six months into the new financial year and almost four months in office, Union road transport and highways minister Kamal Nath sees 'ill effects' of the global downturn waning.
In an interview with Mihir Mishra and Jyoti Mukul, Nath, who as the commerce and industry minister in the previous United Progressive Alliance government was part of the fire-fighting to minimise impact of the slowdown, says that the current year will be better than the last year. Excerpts:
Despite the government's intention of increasing spending in the infrastructure sector through higher lending by India Infrastructure Finance Company Ltd, there has not been enough activity. Not many projects have sought debt. Do you think a change of approach, especially in project conception and bidding process, is required?
Since 2005, there were certain systemic changes in the NHDP award process. It was decided that all projects will thereafter be rolled out on the BOT (build-operate-and-transfer) toll basis, whereas earlier only a small percentage of the total award used to be on this basis.
It was decided that all projects were to be tested on BOT-toll, even where it was evident that there was no traffic, which created an impression among the bidders that rolling out a project was not a serious exercise.
The Public Private Project Appraisal Committee was set up in 2005 and all projects were required to be cleared through it.
Earlier, the National Highways Authority of India board was empowered to take such decision. New documents like MCA, RFQ and RFP were introduced, changing the way the system worked, when the comparable documents earlier in use were working well and had established themselves.
Hence, substantial changes were introduced during this period in the award process. BOT is a market-oriented process and perhaps the market was not ready for these changes. Making liquidity through IIFCL and such other measures have not helped.
We have placed our recommendations before the B K Chaturvedi Committee for considering issues which we feel are disruptive to NHDP and these changes should hopefully help the process of award.
How far can construction activity, especially in highways and roads, create a demand stimulus for the industry?
We have a huge infrastructure deficit. We have to address that issue because that will determine the growth in the future. Wealth does not create roads; roads create wealth. We have taken such ambitious plan of building roads to bridge that deficit.
Also, highway construction generates substantial employment and stimulus. In Phase-I of the programme, over 250,000 persons per day or 40 persons per km per day were employed.
The requirement of cement between 2001 and 2004 was estimated at around 4 million tonnes and that of steel was 300,000 tonnes.
You have set a target of building 20 km roads per day. Considering the past record of road building, what was the logic behind the 20-km-a-day target?
In the first and second stages of NHDP, we reached award of 12-13 km of highways per day. The available pool of projects were smaller then and we had lesser resources.
We have a larger pool of projects now and given the required resources, it was felt that the target of 20 km is achievable.
Our aim is to augment the rate of development of national highways from the present level of about 4 km a day to more than 20 km a day during the next five years.
We have to make a quantum jump to make any visible difference to the sector and to the infrastructure requirement of the country. We have to make up for not just the last five years but for the last 20-25 years. Thus, we have to go for a four to five-fold increase.
What kind of capacity building is required to meet this target? How far has this been achieved?
Huge capacity building is needed in NHAI, consultants, contractors and land acquisition needs to be done. NHAI's human resource capacity itself will have to be ramped up and steps are on to do that. We have sought additional resources from the central government, which is key to the implementation schedule we have in mind.
You have been attending road shows to bring contractors and finances in road building in India.
What was the sense you got from the developers internationally? Why are they reluctant to come to India and what are the changes they are seeking from the government?
I have always said the last decade was of information technology and this decade would be of infrastructure. India today is a leading destination for infrastructure spending and, underscored by the aspirations laid out in the Eleventh Five-Year Plan, this sector offers tremendous growth potential.
Given our historical underinvestment in highway infrastructure and the role this sector can play in stimulating economic growth, it is imperative that adequate investment flows are attracted to this segment.
We also feel that in this discontinuous time, players looking to finance highway infrastructure would benefit from a fresh assessment of the opportunity.
We have also to convince them that notwithstanding the structural challenges, the profit pool remains large and attractive, with potential for players to enlarge exposures. For the investment levels required by the highways sector, domestic sources would need to be supplemented with overseas.
To achieve this objective, after deliberations with knowledgeable players in the market, we had decided to conduct a series of roadshows in major overseas investment centres. So far, such road shows have been held in Singapore, Zurich, London and New York.
The global liquidity crunch that had gripped the economy last year does not exist any more. Has the easing of the situation helped in getting better response for road projects? Do the investors look at it as a viable business?
India has not had an impact because it has strong fundamentals and least risks. India will remain a sound investment destination. In fact, people are looking towards India and infrastructure is attracting investors. Insofar as roads are concerned, risk issues are very little, especially since traffic is not a problem.
The global economy has gone through a worst phase. How far has this impacted infrastructure growth?
All of us are aware of the crisis which affected the global financial system and engulfed most countries. It caused severe disruption of the world economy on the scale of the Great Depression.
Most of its ill-effects stand mitigated by bold, large and decisive actions taken in concert by governments and central banks in each country.
India is facing problems that are all external and not internal, and this is a big thing. The Indian economy experienced a significant slowdown in 2008-09 in comparison with the robust growth performance in the preceding years. But we were not impacted much and the reason we were not impacted much were our strong fundamentals.
Our banking sector is strong. We have no toxins in the banking sector. The reason for the slowdown was that valuations were based on paper and that gave liquidity. So when the valuations fell, everything came down.
Do you see any revival in the horizon? What is your assessment of the first six months of the current financial year?
Yes, we do see a revival of sorts. We hope that 2009-10 would be better than 2008-09. India is the only country which saw the launch of five cars in the last six months.
Also, the number of applicants showing interest in the pre-qualification stage of bidding exercise is increasing. We are seeing the revival of the housing sector, banks are lending and people are borrowing. But our problem is the high cost of borrowing, which increases the project cost and has its impact everywhere.