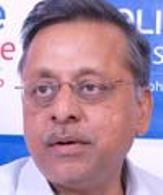 Reliance Infrastructure, part of the Anil Dhirubhai Ambani Group, has said the recent Supreme Court order on gas supply to sister firm Reliance Power (45 per cent owned by R-Infra) will not impact its projects. Instead, it will be expanding, explains CEO
Lalit Jalan
in an interview with Sanjay Jog.
Edited excerpts:
What's the impact of the Supreme Court order on R-Infra? Will it lead to reworking of your strategies?
Reliance Infrastructure owns 45 per cent of R-Power. The SC verdict has no direct implication on any of R-Infra businesses and projects. R-Power is developing a well-diversified portfolio of over 35,000 Mw, with diverse fuel mix across the country, comprising 8,000 Mw of gas-based generation. On the other hand, R-Infra has its presence in all high-growth infrastructure sectors such as roads, metro rails, sealinks, airports and cement.
Where do you stand in power transmission and distribution?
R-Infra is developing transmission projects of over Rs 6,800 crore. Currently, it is developing first 100 per cent independent private transmission project and it has been awarded two out of 3 ultra-mega transmission projects (UMTP's).
In power distribution, R-Infra serves two out of three homes in Mumbai and Delhi. It is distributing over 5,000 Mw, covering a customer base of six million. We are participating in all profitable opportunities arising in this sector. Currently, we are focusing for distribution franchisees in Madhya Pradesh and Maharashtra.
Energy trading is gathering momentum in the power-deficit scenario. How is Reliance Energy Trading doing?
Reliance Energy Trading, a 100 per cent subsidiary, started operations in FY06 and has became among the top five players in power trading. It's a F-category trader (highest category) and operates in all five regions of the country. It traded 3.3 bn units during FY10 as against 1.9 bn units during FY09, achieving 71 per cent growth. Long-erm contracts would provide assured additional trading of 60,000 MU's in the 25 years beyond 2011.
The recent regulatory order related to trading margin is in favour of traders. However, the one related to increase in open access charges is not very positive.
Is the company expanding its road portfolio?
R-Infra is developing 10 road projects, of 790-km length, with an investment outlay of over Rs 8,700 crore. Two roads are already operational and another six roads will be generating revenue in FY11. R-Infra plans to have a road portfolio of over Rs 20,000 crore by 2012-13.
However, land acquisition is the biggest challenge in the sector. Projects are now awarded after acquisition of 80 per cent land, which has significantly reduced the delays. This is as in the new guidelines issued by the government after the Chaturvedi committee report. Availability of skilled and semi-skilled manpower continues to be another challenge.
Even though the company has bagged the Bandra-Haji Ali project (in Munbai), you have yet to resolve several contract-related issues. What's the progress on this? And, what is the status of metro projects?
R-Infra is the developer of the western freeway sealink project which comprises operation and toll collection from the existing Bandra-Worli link and construction and operation of the Worli–Haji Ali stretch.
There is no contractor-related issue. R-Infra is in the process of executing the concession agreement with the Maharashtra State Road Development Corporation. We can collect toll on the existing Bandra-Worli corridor on achieving financial closure. The extended stretch, Worli–Haji Ali, is expected to be completed by FY14.
On metro rail projects, the company is developing three metro rail projects in Delhi & Mumbai, with total capital expedniture of Rs 16,000 crore (Rs 160 billion). Two projects (Mumbai Metro Line-1 and Delhi Airport Express Link) will be operational in FY11.
Mumbai Metro Line-1 is expected to be commissioned 15 months ahead of schedule and Delhi Airport Express Link will be operational before the Commonwealth Games (October). R-Infra is pre-qualified for the Hyderabad Metro & the Bangalore High Speed Rail link - a total project outlay of Rs 18,000 crore (Rs 180 billion).
What about airports?
The company has acquired developing and operating rights for five brownfield (existing) regional airports in Maharashtra. There is a concession period of 95 years. Commercial flights have commenced operations in Nanded & Yavatmal. From zero flights in November 2009, we have started 10 weekly flights in just six months at Nanded. A training institute has also started there.
How is your cement business prgressing, with the industry facing rising input cost and other challenges?
The company plans to set up 25 million tonnes cement capacity over the next five years. R-Infra would be the lowest-cost producer in the country. The company has identified two sites- Satna in MP and Yavatmal in Maharashtra - for production of five million tonnes each. It has signed agreements with the Madhya Pradesh and Gujarat governments.