Home > Business > Special


Sudha Murthy on Infosys and life's values

Moneycontrol.com | June 12, 2007



It's her passion and commitment to use what she has been blessed with for the benefit of others that keeps Sudha Murthy ticking. Very few are aware of Sudha Murthy's achievements.

She has single-handedly evangelizing the move towards corporate social responsibility. She has worked almost for a decade to change the lives of children in the heart of rural Karnataka by giving them access to food and education.

She is an author of 92 books in almost every Indian language to her credit. She is one of India's most celebrated entrepreneurs. Here she speaks her mind, shies away from the limelight and truly practices what she preaches.

Founder, Infosys [Get Quote] Foundation, Sudha Murthy, told CNBC-TV18, "In life's journey, we all meet strange people and undergo many experiences that touch us and sometimes even change us. If you have a sensitive mind, you will see your life too in the vast storehouse of stories. For me, it is something closest to my heart. Initially, I was a mother to it but somewhere along the line, it has become the mother and I the child."

Excerpts from an interview given to CNBC-TV18:

You are in a sense the angel investor behind one of India's largest entrepreneurial success stories. It was your Rs 10,000 that started Infosys. But purely as a person, what is this success story?

Sudha Murthy: How do you define success? I gave Rs 10,000 not thinking I would get a great return. Here is a man who is dreaming of a company and he told me without your support it would be difficult for me to start and I helped him. That's what I considered and nothing more.

Did you believe in the vision that he had? Did you ever think that Infosys was going to turn out to be what it is today?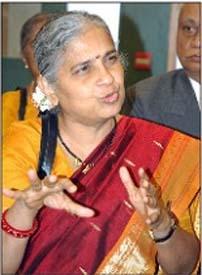 Sudha Murthy: No, I only knew that Murthy is a very honest and hardworking person and he wants to do something and he told me I require three years of hard work from you and I will not be able earn. You'll have to manage the family and give me the initial investment.
I said, okay, let him do it. When you don't have many things, then you don't get scared.
He also gave you choice and he said that both of you couldn't be at Infosys together. He gave you the choice of joining Infosys but you chose to pull back and not do it -- at any point of time did you think that maybe you would have liked to have done on?
Sudha Murthy: No, it was very hard for me, it was not a easy decision because in 1968 I joined an engineering college and in 1972 I graduated. There was not a single girl in the university.
For a person like me who was so career conscious and who was so fond of technical things, it was very hard. But Murthy being a very strong person, he said it's either you or me.
When he said that, then I thought practically. If I am in, then he is out and when you start a company you have to run around, stay away from the family, everything you have to do and I am a woman, I couldn't be away from the family and the children.
Secondly, I knew children require their mother at an early stage of life and not so much when they grow up. Whatever value system you teach, it's only in those crucial years. So, therefore I said okay and I made the decision but my heart was very heavy. It took many years for me to reconcile to this.
But couldn't you have gone back once your children grew up?
Sudha Murthy: By that time, I realised it is not only technical thing that's great in life, there are many more things in life, which are very important. So, when one window was closed, God opened a door to me and that is the Infosys Foundation.
Have your relationships become transactional? Do people now talk to you only to associate with you because they want something from you?
Sudha Murthy: It becomes so hard to find a genuine friend or a genuine relation because everything is a transaction in one or other. It could be money, it could be job, it could be an association and somewhere I feel I lost the golden days.
So it's been a lonely journey, isn't it?
Sudha Murthy: Of course, when your husband builds a company like Infosys along with his teammates it is like a tapasya -- that means 100% concentration on his work -- and God is so intelligent, that irrespective of your status or gender, he gives everybody only 24 hours and Mr Murthy used all these 24 hours for one purpose and that is Infosys.
What was left for me and the children was hardly anything and I became like a single parent with two children. Murthy never knew which class they were in and he never went to any PTA. He only came to know when the children grew up and went to college. I had to struggle with their PTA, their progress reports, their holidays.
Is it also because you created your own identity besides being Mrs Narayana Murthy, which is what has kept you going for so long?
Sudha Murthy: Because I believe that every human being should run their own marathon and this was taught to me when I was a young girl by my grandfather who was a Sanskrit scholar.
He told a very beautiful shloka. He said Krishna is respected not because he is son of Vasudeva, not because he is the husband of Rukmini, not because he is the father of Aniruddha, not because he is Yashoda's adopted son, but because Krishna himself was a different person.
Similarly, in real life, it is nice that you are related, you are married and all those things, but you are what you are and I always believed in my own strength, my own weaknesses and my own way of thinking, which helped me a lot to achieve what I liked.
Do you consider yourself a feminist?
Sudha Murthy: I really do not know how to define a real feminist. I felt when I was 23 years old, there was gender discrimination and I felt I must inform Mr JRD Tata because I was studying in their institute.
The greatness is not me writing a letter but it was Mr JRD Tata, who was great. He was a chairman and a big man who has many companies and he gets a postcard from an unknown girl hailing from a middle class doctor family, from a small town known as Hubli. She writes a letter and he accepts it in a positive way and he said that this girl should be called for an interview -- that made me feel like a very great person.
You feel like a misfit in corporate India's jetset crowd?
Sudha Murthy: Probably, because I am definitely not in the corporate scenario.
Did Mr. Murthy ever say that maybe you should try?
Sudha Murthy: Never ever. Actually, both of us have this equation that we never criticize or cross each other's path. For example, Mr Murthy never tells me you should not give money to these people or you should give money to those people.
And not even once, in my 10 years in the Foundation, Murthy has insisted for any project money should be given either personally or officially.
But have you been able to translate your philosophy and the way that you have been brought up and the way that you have lived your life to your children as well?
Sudha Murthy: They won't see it exactly that way. But to some extent they can understand and they can follow.
One year I remember, my son sent me a birthday greeting which said: 'Every mother works for their children, my mom works for somebody else's child and Happy Birthday.' And these soft words came from a young boy of 20. Probably, it is the love or compassion he has seen and learnt in his formative years.
Apart from the philanthropy, you have said that Mr Murthy has become very serious now, but do you still manage to take out time for the indulgences that you used to enjoy -- you like going to movies and enjoy music, does any of that still happen?
Sudha Murthy: No, Murthy does not come to the movies at all actually -- maybe for 20-25 years we had not seen any movie. Recently, I took him for a movie and he was saying how we should improve the quality, now he looks at everything in a manner of how we should improve the quality, how we should get an Oscar.
He looks for excellence in everything. Murthy does not enjoy what he used to enjoy before.
So he is a different man, he is not the same man you have married?
Sudha Murthy: Yes, he is different today.
More Specials