Home > Business > Special


How to play Reliance Petroleum now?

Sakshi Sharma, Moneycontrol.com | May 11, 2006



Reliance Petroleum, RPL, had entered for subscription with a public issue of 135 crore equity shares of Rs 10 each for cash at a premium to be decided through the 100% book building route.

The company has listed on the stock exchanges at Rs 101.95 on the BSE and at Rs 99.95 on the NSE. The stock was issued at Rs 60 per share.

Experts give their views on what must one do with this stock ahead.

Chairman at ENAM Financial Consultants, Vallabh Bhansali: Listing has been good, in line with expectations.

RPL has listed very well, it was probably in line with expectations seeing the way the market was behaving over the last few days and it truly has been an historic moment.

If one looks at the whole approach to the project, as they said this is an intelligent response to the market opportunity. They saw that world is starved of high quality diesel and petrol and they found the sweet spot in the whole market place and quickly decided to implement this.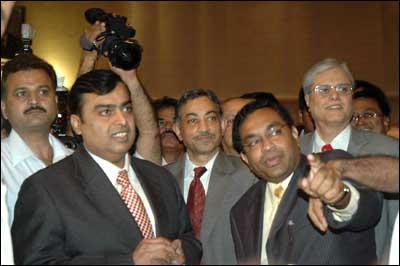 To have 35,000 people work on this project much before the IPO came on the drawing board speaks not only of great vision but also of great execution capability. They expect 150,000 people to get on the site in the next six months and to say this is a world record is to belittle the whole thing. It is salute to human ingenuity and determination. That is what this whole project is all about.
The traditional Reliance investors came in big numbers, ENAM sold more than $5 billion of this paper to the international community and I think we were able to convince them as we made out a detailed case of what this was all about. I think a story of this kind hasn't happened in the global capital markets for a very long time
Deven Choksey of K R Choksey Securities: Good for portfolio accumulation below Rs 95-105 levels.
We believe that this particular company is likely to sustain around its current levels. Going forward as they come closer to the commercial production date the price could increase.
So Rs 95-105 levels may be the range for today and if it falls thereafter, that could be an attractive buy for portfolio accumulation. As far as the F&O side is concerned, it definitely makes sense to stay long on the futures side.
All in all, there is a case, which is getting built-up that if the stock price comes down below three digits, definitely it becomes an attractive buy for investment for a long-term investor. In the first one-two years, one may not have high scale up from the current price but any opportunity in the market could be a good opportunity for an investor who wants to look beyond the year 2008-09 and thereafter, as far as this company is concerned.
Investment advisor, S P Tulsian: Any price below Rs 100 level is a buy for RPL
I think any price below Rs 100 level is a good buy for RPL. I expect the stock to be anywhere between Rs 100-105 level during the day.
I see buying coming in from both retail and HNIs. When I spoke to investors they were not very satisfied with the kind of allotment they got. The same is happening with HNIs also. Since the issue have got subscribed over 16 times and there has been huge rejection in the application. So there is a strong appetite from HNIs also. So I see buying coming in from both sides in RPL.
Chairman of JM Morgan Stanley, Nimesh Kampani: RPL should stabilise around Rs 90-100 level
Reliance Petroleum started with Rs 100 and hopefully it will stabilise between Rs 90-Rs 100. There was tremendous response for it. There are also people waiting to see how they can buy and average their investments. I think the stock should stabilise, it is only the opening.
Raj Gandhi of Angel Stock Broking: In the next one week or so, RPL should trade in a price band of around Rs 75-90.
One saw a huge over-subscription for a big issue like this, so there is still a lot of unmet demand there. On that side, there is a lot of buying frenzy happening for people who did not get the allotment right.
From a pure retail investor perspective, we will suggest to wait for this unmet demand buying to get over and they can buy it at around Rs 75-Rs80 for the big upside. This is because from this level, it would no longer be a multi-bagger that it was.
On an estimated $10 margin, we see an EPS of Rs 12 in 2010 for RPL. I would recommend retail investors to wait for some time for this unmet demand buying to go down and they can enter at around Rs 75. For investors who already have the stock, I would recommend to hold on to it.
In the next one week or so, I see RPL trading at a price band of around Rs 75-Rs 90.
ALSO SEE:
For more on markets & business, log on to www.moneycontrol.com.
More Specials


What do you think about the story?








Read what others have to say:





Number of User Comments: 1








Sub: when one do not have any communication

one certainly not appreciate when not communciated about ipo application, then can purchase even with lowest possible price in the market and have controlled.. do ...


Posted by Subodh Deshpande






Disclaimer