Home > Business > Special


How Indian firms can globalise

George Yip | September 13, 2005



Multinational companies are breathing down your neck. Indian companies will need to learn how to be competitive to succeed. Get ready to globalise. Begin now. . .
---
In today's open economy with foreign companies coming to India, local companies have to not only defend their turf but also enter markets outside India. Currently most Indian companies operate at the bottom of the global value chain by selling components or unbranded products; their challenge is to develop business capabilities that equip them to compete at the top of the value chain.
In this article we shall focus on global strategies that will help companies participate in international markets.
But how does a company decide whether it is ready for global expansion? N Dawar and T Frost of Harvard Business School have developed a framework that can help companies make this decision.
According to this matrix (Figure 1) companies should first consider whether the pressure to globalise is high or low. Whether their industry is a local industry or can it go global? Then they should consider the competitive assets of the company. Are the assets customised to the local market or can they be transferred abroad? This framework throws up four positions that emerging market companies can adopt in the open economy.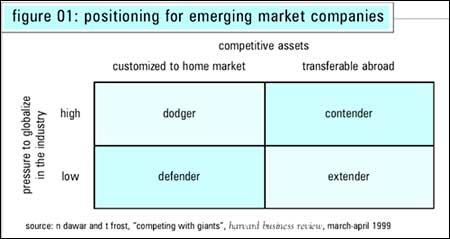 1. Defender: Companies should adopt this position when they have low pressure to globalise and their competitive assets are customised to the local market. This is a defensive strategy that focuses on leveraging local assets in market segments where multinationals are weak.
For example, when Western cosmetic giants entered the Chinese market, Shanghai Jahwa, the local cosmetic company did not compete with them head on by targeting their global product ranges. Instead they responded by developing products that would suit the local complexion and appeal to local people.
Similarly Grupo Industrial Bimbo, a Mexican food company responded to global competition by defending their distribution system, which could reach the remote rural areas of the country.
In India Videocon developed semi-automatic washing machines that were targeted at the value conscious Indian consumer and has successfully countered MNC competition by focusing on this segment.
2. Extender: Companies that possess competitive assets, that can be transferred abroad, can adopt this position when the pressure to globalise is low. They focus on expanding into markets similar to those of the home base, using competencies developed at home. Televisa, a Mexican media company globalised by making their Spanish language products available to the Spanish speaking population across the world.
Another good example would be the case of Jollibee foods, a Philip-pines fast food chain that faced off McDonald's by developing spicier products better suited to the Filipino palate. They then followed the Filipino population across the world to globalise.
3. Dodger: Companies that have a high pressure to globalise, or are vulnerable to global competition, and do not have a transferable competitive advantage, have no other option but to dodge competition. These companies focus on a locally oriented link in the value chain, enter a joint venture, or sell out to a multinational.
For example, Kwality, a dominant player in the Indian ice-cream market sold its brands and manufacturing assets to Unilever, making Kwality-Walls the market leader in the Indian ice-cream market. Similarly, when the Iron Curtain came down, Vist , a Russian PC manufacturer did not compete with American or Japanese companies, but shifted focus to PC distribution.
This was an artful move because distribution in Russia was ridden with corruption and foreign companies faced difficulties in distributing products. As a result of this today they form an important link and support the Japanese and American MNCs in their business.
4. Contender: Companies that have competitive advantages that can be leveraged abroad and also have a high pressure to globalise can compete aggressively in global markets. They focus on upgrading capabilities and re-sources to match multinationals globally, often by keeping to niche markets.
For example, Sundram Fasteners competes in global markets for niche auto components like radiator caps. A measure of its global competitiveness is the fact that it won the General Motors', 'Supplier of the Year' award for five consecutive years.
Similarly, Bharat Forge, the second largest forging company in the world, competes by being a global supplier of specialised engine and chassis components for trucks and passenger cars. One out of every two trucks in the US uses front axles made at Bharat Forge.
Defining competitive advantage
Once a company has decided which position to adopt in the global scenario the next step is to identify its inherent competitive advantage. To globalise success-fully it is critical to have a strong basis of competitive advantage that can be leveraged internationally.
For newly internationalising firms an initial competitive advantage is the single greatest determinant of international success.
While there are many different bases of competitive advantage, companies may find it useful to consider six categories: customer market, products and services, business system or value changing, assets and resource, scale and scope, and partners.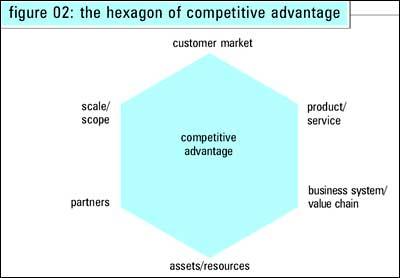 Figure 02 depicts these categories around a hexagon, illustrating the idea that a company can start from any corner of the hexagon but needs eventually to add strength at every point.
Customer market advantage
A captive or a loyal customer market can be a source of advantage. For example, Microsoft, during its first ten years, did not have a superior product. Apple not only offered better products; it also had loyal customers who loved the brand. But what contributed to Microsoft's success was its captive customer base that stayed with it because of the standards lock-in or through inertia because of convenience and costs of switching products.
So once a company has this captive customer market it can further leverage this advantage by:
1. Following domestic customers: Coca Cola globalised during the Second World War, when they supplied Coke to American soldiers all over the world and that in turn exposed the product to the world. A fine Indian example would be Marico Industries.
They focussed on international markets where there were a large number Indians with product preferences similar to the domestic market and used that as a base to expand.
Today, Marico's international business is among the top three Indian consumer goods companies and its products sell in more than fifteen countries in the Middle East and the Asian sub-continent.
2. Using customers as reference: Many companies use their customers as a reference to infiltrate international markets. For example, Asian Paints is one of the top ten decorative coatings companies in the world with a strong presence in the Indian sub-continent, Southeast Asia, Far East, Middle East, South Pacific, Caribbean and Africa.
The company has grown its international business by targeting developing and emerging markets that are similar to the Indian market. They target international markets that are typically characterised by low per capita consumption and distribution models similar to the Indian market.
3. Using standards as springboards: Companies, which are located in the developed countries, use standards to internationalise. They manufacture products that meet the highest standards in the world and use these to attract customers.
Many German companies use this method to enter international markets. This is much harder for Indian companies to pull, except perhaps in the IT sector.
The pyramid of international competitive advantage
One way of thinking in relation to customer market advantage is to analyze where you are in the pyramid of international competitive advantage (Figure 02). In the case of global expansion, having an advantage need only be relative to each specific region entered.
Hence, a firm with weak competitive advantages at home may still have a competitive advantage in foreign markets. This would be particularly the case for firms moving from more developed economies to less developed ones.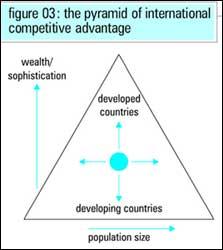 This effect is illustrated in Figure 03. In the pyramid, firms selling 'down' to less developed economies find it relatively easy to have a competitive advantage in the entered market.
Firms selling 'sideways' to economies of similar development need to work a bit to create an advantage, perhaps through local adaptation. Lastly, firms selling' up' to more developed economies have to work really hard to establish competitive advantage, perhaps through lower prices or by focusing on a market niche.
The easiest way for emerging market companies is to sell down. But a lot of companies in these markets are selling up to gain experience and knowledge. Bajaj Auto not only sells products sideways to gather volumes, but also sell up to Europe and the United States to gain knowledge and improve their competitive capabilities back home.
Product or service advantage
The most common basis of competitive advantage is having a superior product or a service. Such superiority can range from minor items into very major ones. Toyota's innovation of a coffee cup holder in its automobile model represents perhaps one of the smallest yet most successful product based advantages.
This feature helped Toyota gain many sales in the US. At the other extreme, product superiority can be so great as to constitute a new category that in turn yields the additional basis of advantage of market dominance. Product superiority can also be built over a period of time.
Toyota started from an initial position of product inferiority, but continuously improved its products until they achieved superiority in many of their offerings.
Another important factor that has to be taken into consideration is the underlying reality of an apparent product- based source of competitive advantage. Often, this advantage springs from the other bases in the hexagon (more on this later).
Secondly, companies also can internationalise when they have the ability to provide a service where there is a distinct gap. For instance, some Chinese const-ruction companies are going to Africa because Western companies do not go there.
Thirdly, companies can adapt products for local markets. Thermax India, for instance had developed a radically different design for its boilers, which reduced their size by a third. However, this design had to be significantly adapted to the different technical standards and needs of customers in international markets.
As a result of this adaptation today, Thermax is the sixth largest producer of small boilers in the world and its systems are used in over forty countries.
Fourthly, companies can offer products and services based on global standards. The Indian IT and pharmaceutical sectors are using this route to access international markets. India has as many as 66 SEI CMM Level 5 companies (44% of the global total), the highest level in process maturity of software delivery.
In the pharmaceutical industry, India has the most number of US FDA approved manufacturing plants outside of the US.
Business system or value chain advantage
The value adding chain, also known as the business system, comprises all the activities that a business conducts. A typical sequence begins with research and development, runs through production, and finishes with selling, marketing, distribution and after sales service. The value chain can provide advantage to a company if the company is superior in one or more elements of the value chain.
Companies can leverage their business system advantage by either exporting from their domestic business system or through relocation of specific activities. Tata Motors is doing both to leverage its competitive advantage.
It exports commercial vehicles to over fifteen countries from India using its domestic business system. On the other hand the company is also planning to set up a bus body assembly unit in Africa to gain regional advantage.
Assets and resources
Tangible assets ranging from factories to patents, and intangible assets such as brand names and reputation, provide another powerful basis for competitive advantage. One of the most interesting aspects of asset-based competitive advantage is that these assets have often been generated in much earlier periods.
One of Coca-Cola's primary bases of competitive advantage is the fact that it has the best known brand name in the world. Another key advantage is its physical distribution system comprising many company owned bottling plants trucks, warehouses, and other distribution facilities, as well as its network of franchised bottlers.
A company can either leverage or transfer its existing domestic assets and resources or it can add or substitute local assets and resources. Indian information technology and business process outsourcing companies are leveraging India's high quality technical education infrastructure (675,000 technical graduates every year) to drive growth in international markets.
The combination of the Indian aptitude and value for technical education and mathematics, combined with the fact that India has the second largest English speaking population in the world has created this valuable domestic asset.
In contrast, Bajaj Auto, the largest producer of scooters and three wheelers in the world leverages its low cost domestic production assets to export around the world.
Companies also have to consider the direction in which they move in 'the pyramid of international competitive advantage.' The general rule is that when a company is moving down the pyramid it should emphasise the country of origin, because the new market perceives it as superior.
When a company is selling up the pyramid it should hide the country of origin and acquire another local name and brand and sell that there, because the products from the home company are considered as inferior.
Nowadays, emerging market companies go overseas and buy an established brand name in developed countries. Tata Tea leverages Indian tea plantation assets in conjunction with the Tetley's marketing network to access markets for branded tea around the world.
Economies of scale and scope
Companies also gain advantage from economies of scale or of scope. Economies of scale come from the reduction in unit cost with increased production volume, while economies of scope come from sharing costs across multiple products or lines of business. Market share usually drives these economies.
Hertz is a fine example of leveraging economies of scale.
Hertz's success in the automobile rental market arises partly from its faster, more efficient express service. But why can Hertz offer a service superior to that of its competitors? There are no secrets in the car rental business.
Nor was it because Avis and National did not have the desire to imitate Hertz. But they did not succeed because Hertz 's competitive advantage was its scale. By virtue of being larger than its competitors, Hertz had more buses circling airports, larger facilities, better computer systems, more cars and more staff. It is these scale-based advantages that yielded an advantage.
So Hertz is not number one because it offers superior service. It is able to offer superior service because it is number one.
As far as economies of scope go, companies should consider whether they can serve new markets with current product scope. They should also analyze whether adding to product scope helps or hurts economies of scope Wipro and Infosys have both added to product scope by offering BPO services (Progeon and Wipro-Spectramind) in addition to their existing product suite.
This has added to economies of scope in international markets, given the significant opportunities to leverage resources and people across both the IT and BPO services segment.
Partner advantage
Having the right partners is also another plus. Microsoft's initial basis of competitive advantage was its partnership with IBM. Emerging market companies can follow their partners, have partners follow them or find new, local partners to go global.
Tata Motors is leveraging local partners to sell its passenger cars. It has entered into an agreement with the UK's long established MG Rover to sell its passenger car across the UK and Europe. They will collaborate across a range of areas including branding and distribution. On the other hand Ranbaxy Laboratories and Wockhardt, competitors in the domestic Indian market, have established a strategic business alliance for the US market. The alliance covers product development, supply and sales and marketing
While it is important to be superior in one of the above advantages, real power comes from putting together multiple bases of advantage. Truly successful companies are those that manage to build on their initial base of advantage, and increase it, while continually adding other bases of advantage.
Toyota Motors for example, started with just one source of competitive advantage; their business model based on low labor cost. They gradually built on the other advantages such as product quality, and economies of scale. Today their cars command a15% premium over American brands.
In the 1990s, a factory in California manufactured two cars, with marginal differences from the same production line. One was labeled Toyota while the other was labeled General Motors. The car labeled Toyota fetched a 15% premium over the other car.
Conclusion
Companies from India and other emerging economies face many challenges when they go global. But there are many strategies that they can use to offset their disadvantages and to leverage inherent advantages of coming from poorer countries. Indian companies now have no excuse for staying at home.
George Yip is Professor of Strategic and International Management at London Business School.
Powered by
Published with the kind permission of The Smart Manager, India's first world class management magazine, available bi-monthly.
More Specials


What do you think about the story?








Read what others have to say:





Number of User Comments: 10








Sub: Welcom to the suggested ways of Prof. George Yip

Multinational companies are anxious to shake hands. Indian companies will need to learn how globalize itself. Be competitive to succeed. Get ready to globalize. Begin ...


Posted by vinod









Sub: goood

excellent one ..good one


Posted by sumit









Sub: response

good ,informative concise.shouild be continued


Posted by sushil kumar









Sub: excellent article

hi your article on "How Indian firms can globalise" was excellent. Keep it up.


Posted by bhavani









Sub: Superb

The article is really superb.... hope to see more such!!


Posted by Balakrishna






Disclaimer