In the shadow of Derek Trucks
Sumit Bhattacharya
After attending the Mahindra Blues Festival and stalking guitar god Derek Trucks in Mumbai, Sumit Bhattacharya comes back with a bagful of tales.
In the middle of one of his blistering solos during the Tedeschi Trucks Band's performance at the Mahindra Blues Festival in Mumbai on Saturday, Derek Trucks broke a string.
His guitar technician jumped in with the other Gibson SG guitar Derek was carrying for his Japan and India tour. Derek ignored him, signalled to keyboard player Kofi Burbridge, who launched into an impromptu flute solo, and got a string.
In roughly a minute, Derek Trucks had restrung his guitar onstage. His wife and singer Susan Tedeschi tried to hand him a tuner; he instead tuned it by pressing his ear to his guitar, and finished his solo like nothing had happened. By the end of the solo, he had bust another string.
"He usually breaks a string at the end of that song so I am generally prepared," Derek's guitar tech Ryan Murphy said later. "But he just loves that guitar."
As Mumbai witnessed over the weekend, that guitar loves him right back.
After watching Derek join the other overseas performers at the festival -- Jimmie Vaughan, Zak Harmon, Li'l Ed and Doyle Bramhall II – on Sunday, Bollywood composer and guitar player Ehsaan Noorani wrote on Facebook: 'Derek Trucks you are blessed, God talks through you...'
We couldn't have put it better.
There were many very good performances at the Mahindra Blues Festival, including by Shillong's very own Soulmate, whose set featuring Khasi folk musicians was so refreshing. And the band's soul, singer Tipriti Kharbangar, was in as fine form as ever, scatting with the ease of a fluent improviser.
But the Tedeschi Trucks Band's nearly two-hour performance – that kicked off with Don't let me slide from their Grammy-winning album Revelator and included blues classics from Howlin' Wolf to Freddy King, besides a sublime, extended and slightly slower version of Midnight in Harlem – was undoubtedly the standout.
With every soaring note, every Indian classical-esque glissando, Derek Trucks proved that the greats stretch the genre they are straight-jacketed into.
Yes, Derek Trucks makes the blues sound better than the blues. And that takes some doing.
Also read: Exclusive: Hearing Ali Akbar Khan was a eureka moment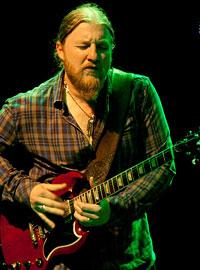 Image:
Derek Trucks' acoustic performance at True School of Music in Mumbai, February 16.
Three stages, thousands of people, and more 12-bars than you could count
If a Martian had landed in Mumbai over the weekend, he'd probably think it's a city with a thriving live music scene, which it isn't. There were three stages at the superbly organised festival, and ample space to eat, drink and stay merry.
And thousands of people did just that, grooving to a kind of music that generally wouldn't attract 50 people at a gig in the city. If anyone was complaining about too many 12-bars, we didn't hear it.
The headliner for the second day, the veteran Jimmie Vaughan, made a reference to his late brother, the great Stevie Ray, in an emotional solo song that spoke about blues stringers going to heaven.
Zac Harmon from Jackson, Mississippi, delivered a delightfully tight set. Li'l Ed and the Blues Imperials had the crowd grooving to up-tempo Chicago boogie. Blackstratblues, Indian guitarist Warren Mendonsa's band, belted out loud guitar rock.
And in between the performances, a band comprising faculty of the True School of Music entertained with covers of everything from Stevie Wonder to standards.
There were youngsters and not so youngsters waving the devil's horn at Derek Trucks (perhaps not realising the irony of it), cheers almost drowning the music every time he launched into a solo.
Image:
(Clockwise from top left) Soulmate's Rudy Wallang, Jimmie Ray Vaughan, Zac Harmon, Li'l Ed and, Susan Tedeschi and Doyle Bramhall II in concert at the Mahindra Blues Festival, Mumbai, February 15 and 16.
Photographs:
Mitesh Shah
'There's no arrival in music'
"With this band, I feel like every night everyone's learning from each other," Derek said on Sunday morning at the True School of Music in Mumbai, where he and Susan met some musicians and fans.
"After each show's over we talk through what went well and what didn't go well. I think it's important to keep that grind in mind all the time. There's no arrival anywhere (in music). Once in a while you have a good show and you celebrate it for an hour or two and you forget about that and you move on... Just trying to keep the flame lit; you try to stay inspired and whatever it takes to do that, you do. Sometimes it's making a musical change, sometimes it's digging in on trying to learn something specific, sometimes it's just getting out and playing every night."
He added, "We run into great musicians but we also run into musicians that seem to hit a plateau... You see them lose the joy. That's one of the traps we actively seek to avoid – getting too comfortable."
The Tedeschi Trucks Band seems in no danger of that, and every one of the 11 members – 12, if you count Doyle Bramhall II, who played on a few of the songs -- was evidence that the band is steeped in the ethos of a bygone era where every night every song is more spontaneous combustion than a pre-packed product.
Image:
Derek Trucks and Susan Tedeschi in concert in New York earlier this year.
Photographs:
Vivien Killilea/Getty Images
'I don't want to see anything I can see in Texas'
At Derek and Susan's event at the True School of Music, husband and wife played three songs with borrowed acoustic guitars, and also spoke about India in general and Mumbai in particular.
Apparently, Doyle Bramhall – who has played with almost everyone from Roger Waters to Eric Clapton -- had come to India about a year and half ago, and liked the country so much that he told his friend Derek, 'We gotta make it happen, man, we gotta play in India.'
So when Derek and Susan were invited for Mahindra Blues, Derek immediately called up Doyle.
In Mumbai, the two guitar players also apparently refused to be driven around in air-conditioned cars, instead hopping on auto rickshaws, visiting a slum in Bandra, places like the Haji Ali mosque, and generally keeping it real.
Even at the festival, Trucks mingled with the crowd, standing in a corner and only fleetingly looking nervous as the stream of people who wanted photographs clicked with him didn't seem to end.
"I've seen too many hotel rooms," Derek quipped, elaborating why they chose to head out into MaximumCity instead of relaxing to beat the jet lag. "I don't want to see anything I can see in Texas. So no Gucci showrooms!"
Did they expect so many people to know their music in India? "No," admitted Susan. "That's been one of the big surprises."
Derek and Susan also spoke – humour intact -- about how they met.
"I used to tell my friends," Derek said, "I'm not settling down till I meet a woman that listens to – I had this big list of musicians. So when I met Susan I called them up and said, 'Listen, I think I've put my foot in my mouth'... So be careful what you wish for."
Susan said on first meeting Derek and Oteil Burbridge – the Allman Brothers bass player who has also played with the Tedeschi Trucks Band – gave her the music of avant garde jazz composer Sun Ra, and pianist Liberace.
"I think they were trying to scare me," Susan said. "But it intrigued me more."
"Sun Ra movies are a great first date," Derek quipped. "I figured if that didn't run her away..."
Image:
Derek Trucks' acoustic performance at True School of Music in Mumbai, February 16.
Photographs:
Sumit Bhattacharya
The Derek Trucks stories
What he did in Mumbai is apparently the norm with Derek Trucks when he is touring.
In New York City, where they played before travelling to Japan, the driver of a taxi – many of the Big Apple's cabbies are from the Indian subcontinent – Derek was travelling in was listening to Rahat Fateh Ali Khan, who Derek has played with.
The cabbie was taken aback that this blond white man knew what he was listening to. Derek plugged in his phone to the taxi's stereo and put on his own Rahat Fateh Ali Khan collection.
In Mumbai at the True School of Music event, Derek also spoke glowingly about his alma mater, The Allman Brothers Band. He said he was quitting the band this year to focus on "having a half-life" with his children, but added that the Allmans had always spoken about a year being their last since he joined them 15 years ago.
"So I wouldn't write them off," he quipped.
And he had words of advice for youngsters starting out on the difficult path of making music for a living.
"We all have influences," he said. "It's great to start there, but you have to keep moving. I think it's important to not over-analyse what you do all the time, just kind of let it air out. As a guitar player... you don't want to just play everything you've ever practised in a room, at people. You want to make sure that you're trying to tell a story: What are you trying to make people feel? What are you trying to say to people?"
"Sometimes you hear a Wayne Shorter solo, and you can almost hear him talking to you. You can hear the story."
When he hung out with Shorter, Derek said, the great jazz saxophonist told him that when he was playing with Miles Davis, the mercurial trumpet legend would sometimes point at a woman and say, 'I want you to play that.' Or sometimes he would point at a colour, and say, 'Play that'.
"They (Miles and Shorter) were big into boxing," Derek said, "so sometimes he'd say 'play that left hook.' And he'd play a riff and he'd say, 'No, play it again'!"
He added: "Your music can be everything you're into and everything you want it to be, but it should also be who you are, and where you're from – 'cause no one has that story. Everybody can emulate other people but your story, that's unique."
Also read: Exclusive: Hearing Ali Akbar Khan was a eureka moment
Image:
Derek Trucks in concert at the Mahindra Blues Festival, Mumbai, February 15.
Photographs:
Mitesh Shah