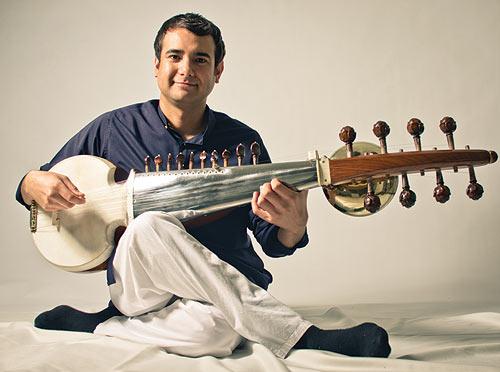 Back from a triumphant tour of India and kicking off a number of solo performances across America, Alam Khan admits that he sometimes feels he is still in the shadow of his legendary father, the late Ustad Ali Akbar Khan.

"On some good days, I know how to deal with the fear (that) I am not as good as him," says sarod exponent Alam Khan.

"I tell myself, he was unique and I am what I am; and he would be looking down at me with pride."

On bad days, Alam, the son from the maestro's last wife Mary, feels depressed. But then the music calls him. And he would be with the students at the Ali Akbar College of Music near San Francisco where he teaches advanced instrumental and vocal classes And they would be looking up to him.

Alam Khan has received excellent reviews -- The Hindu called him 'a formidable musical talent'. And his new series of concerts was to kick off February 15 at the Roulette in downtown Brooklyn, New York, at an event organised by Robert and Helene Browning, formerly of the World Music Institute.

Alam Khan remembers performing as a teenager with his father at a prestigious performance organised by the WMI.

"I was not really into Indian classical music for some of my preteen years," says Khan, who is in his early 30s. "I
was more into guitar and such things. But in my teens not only did I start admiring the gift of music my father offered, but also the intricacies of Indian classical music."
His father died a day before Alam turned 27. He says there was an element of uncertainty on his part at first, as well as a feeling of being overwhelmed, of being lost. But he would remember his father telling him that he could do it.
Awareness is a word that comes up often in his discussion. He says it is not just carrying the tradition that is important to him but also creating the awareness for the classical music in a new generation.
Helped by his younger brother, Alam Khan is not only running the music school but also trying to complete the library of Ali Akbar Khan's over 40 years of recorded music, lessons and lectures. The downturn in economy has stalled quite a bit of progress on the library. But with his increasing popularity, prestige and engagements, he feels he could create a better awareness of the need to preserve the great musician and teacher's legacy and musical collection.
'As a nonprofit, money is difficult, but we're applying for grants and raising funds to finish the library,' he said in an interview recently. 'The college is my first priority and no matter what, we'll be here teaching this music. We're not going anywhere.'