IIM-A among WORLD's top 10 B-schools
| | | |
| --- | --- | --- |
| | | |
Youth Inc researches, aggregates and ranks the best business schools in the world.
Welcome to the Youth Incoporated, DNA and Rediff.com (online partner) Global Business School Rankings 2012. In an attempt to identify, gauge and classify the best business schools in the world that provide not just quality education but also an overall satisfying experience, we present to you the fruits of our research: the top 100 schools for an MBA (full-time), the top 50 for degrees in Finance, Management and Marketing, and the top 50 schools for an online MBA.
In a throwback to the Global University Rankings we did last year, the first two top schools here -- Harvard and Stanford -- are verily the same, proving that these schools are truly the best at everything they do.
Running down the list, there are both familiar and new names, indicating a rise in the number of premier B-schools in the world. Some are surprise inclusions in terms of their higher ranking and some are shockers because of their lower ranking. But what is most telling in our research is that sole business institutions are now no more the hallowed temples for an MBA; multi-programme universities are fast becoming the chosen destinations for students.
A new player (at least in developing countries) in the realm of business education is the online MBA. Given the pressures of a professional life and the need to constantly update one's knowledge and skills, MBA programmes have begun being conducted 100 per cent online and are gaining popularity. However, the leaders in this initiative are not the old guard but the relatively younger schools.
What sets apart these rankings is that credence has been given to responses from the institutions, the students, alumni and recruiters, giving our data the depth of multiple perspectives. While they were quizzed on the usual value for money and programme quality concerns, students also had to give their feedback on the diversity in their classrooms, career services available to them and exchange programmes in their schools.
We also relied heavily on recruiter satisfaction to see how the institutes stacked up in the real world.
Click NEXT for more
IIM-A among WORLD's top 10 B-schools
The India Story
One Indian institute has made it to the top 10 and four in the top 100, but let us not feel self-congratulatory yet. Let us instead ask, "Why only four?" China has five schools in the top 100, one more than us, but let's take a closer look at them: Peking University (rank 45), for instance, reported that the percentage of Western students studying in their full-time Beijing International MBA programme increased from 5 per cent in 2006 to 35 per cent in 2011.
On graduating, their students were offered jobs from over 250 companies as diverse as JP Morgan, Apple and Louis Vuitton.
As for their faculty, they have more than 40 professors from North America and Europe. This throws light on some problems plaguing Indian B-schools.
We do not have a diverse, international student body or faculty, perhaps because we still place emphasis on rote learning when the rest of the world does not.
Where are our non-IIMs? The IIMs alone cannot be serious competition to the likes of Harvard and LBS. Other Indian B-schools must raise their standards too. India is a great place to study, but it needs a lot of work to be recognised as such internationally.
Given below is the list of top 50 B-schools as per the Global Business School Rankings 2012.

Click NEXT for more
IIM-A among WORLD's top 10 B-schools
Here's the list of top B-schools from 51 to 100 as per the Global Business School Rankings 2012.

Apart from ranking the top 100 B-schools globally this survey has also listed top 50 schools for doing online MBA, top 50 schools for doing MBA in finance, marketing and management.
To read about the methodology of this survey, click NEXT.
IIM-A among WORLD's top 10 B-schools
How did we choose institutes?
We chose 700 institutes across the world after having discussions with students, recruiters and faculty. We also consulted professional organisations such as AMBA, EQUIS and AACSB. Youth Inc's Research Unit (YRU) also studied domestic rankings in various countries to find the best institutes.
All the institutes were sent identical surveys. We then contacted current students, alumni, as well as local and international recruiters and
gathered specific information about the institutes.
Factors considered
1. Recruiter perception
Identical surveys were sent to recruiters worldwide. The recruiters were asked to rate the institutes that they were most likely to recruit from.
The recruiters were also asked to rate the students they have recruited from specific business schools on several criteria including leadership potential and strategic thinking.
2. Diversity of students
The institutes were asked to report the total number of students on campus and what percentage of the students were international and speak two or
more languages. Gender diversity of the students was also considered.
3. Diversity of faculty
The institutes were asked to report the total number of faculty on campus and what percentage of the faculty was international, hold doctorate degrees and accredited with their own publishing material. Gender diversity of the faculty was also considered.
4. Programme innovation
We considered the different ways to construct degree programmes as well as the choice students have in terms of selecting electives.
5. Innovation in teaching methodologies
Institutes were asked to select different teaching methodologies that we considered innovative. Some of these included company visits, dual or multiple majors and course collaborations between different departments at the institute. Our list was selected after surveying students across different campuses worldwide.
6. Value for money
We considered students' and alumni's opinions on whether a particular school was perceived as 'value for money'. We also asked institutes to state the percentage of students who received some sort of funding from the institutes.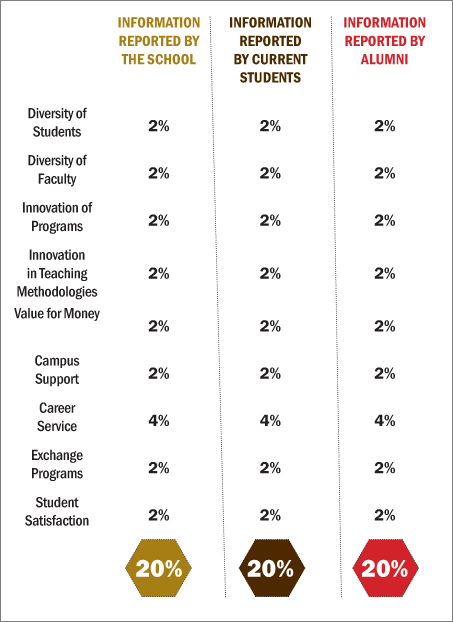 7. Campus support
We asked the institutes, current students and alumni to select the different types of assistance provided by the student office or a similar body on
campus. Our list was selected after surveying students across different campuses worldwide.
8. Career service
We asked the institutes, current students and alumni about the availability and functioning of a career service cell and how active such a service was for the students. We also considered what percentage of students were actually placed through the institute's career service cell, how long it looked for such placements and what the average starting salaries were.
9. Exchange programmes
Institutes were asked to report the percentage of students that opted for exchange programmes. We also considered the exchange students present on the institute's campus.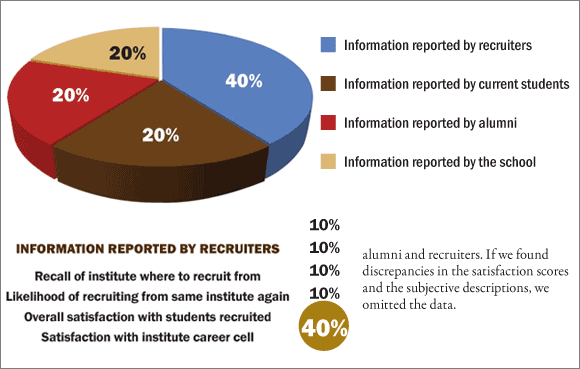 10. Student satisfaction
Current students and alumni were asked to rate their institutes on various factors including career services, attitude of staff and professors,
location and course content.
Actual methodology
We sent invitations to 700 institutes. Institutes were provided a password using which they could send us their completed survey online. They were
asked to answer questions relating to full-time faculty, career services, student and programme information and all the factors listed above. We contacted current students and alumni of the institutes and asked them to rate specific statements which were pertaining to the factors we considered in this ranking. Many institutes preferred to send the survey links to their students and alumni directly.
Over 8,000 recruiters were sent e-mails with a survey. The recruiter list was prepared from the responses of the institutes and also included internationally well known recruiters. The recruiters were asked to enlist institutes that they were likely to recruit from.
Each factor was made up of a set of questions. The total percentage attributed to that factor was based on the average score of the responses
multiplied by the assigned weightage.
We then totalled the score from all factors and sorted the scores from highest to lowest. The school(s) with the highest score was ranked first.
Not just numbers!
After we received the total computed scores for the institutes, we subjectively analysed the data provided by the institutes, current students, alumni and recruiters. If we found discrepancies in the satisfaction scores and the subjective descriptions, we omitted the data.
Institutes that did not fill out the survey reports in time
Out of 700 institutes that were contacted, 120 institutes did not complete the survey on time or did not respond. We used publicly available information on the institutes to include them in our ranking. We also contacted current students, alumni and recruiters of these institutes and
compared the data we received with the data from institutes that did participate.
Special notes
Masters in Finance: The programmes include the pre-experience as well as the post-experience Masters programmes. The ranking also includes the programmes which are recently established.
Masters in Management: Certain Masters in Management programmes with specialisations are also included in the ranking.
Masters in Marketing: Combination courses of marketing with communication and other fields are also included in the ranking.
Online MBA: Certain factors such as campus support and exchange programmes were omitted in the factors considered for the ranking.