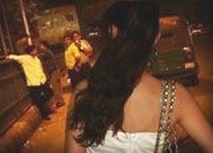 It doesn't always happen to someone else. Here's why it's better to be safe rather than sorry. Photograph: Dominic Xavier

It was 2 am when 31-year-old media professional Piya Pande exited Mumbai's Santa Cruz Domestic Airport a week ago.

Having just returned from a two-day work assignment in the Capital, she says, "I was due to land at 11, but the flight got delayed and by the time I stepped out it was very late. Still, I had booked a pre-paid cab to take me home to Colaba so I wasn't too worried."

That is, until the driver requested her to allow him a slight detour to the other end of the airport, so that he could deposit his day's fare with his employer. "I refused, because when someone makes a request like that, alarm bells go off in our heads right away -- we've often heard of incidents where cabbies drive unsuspecting customers into remote areas and then rob or even assault them," explains Piya.

"So we proceeded straight to South Mumbai, where a cop flagged us down at Churchgate Station. Wondering why he would want to search a taxi with a lone woman passenger at that hour, I was flabbergasted when he got into the cab and told the driver he wanted a lift too!"

She continues, "Cop or not, I was not about to ride with two strange men at 2:30 am along deserted streets and I put my foot down -- I said he had no right to get into the taxi with me. Fortunately, he didn't put up a fuss about it and got off. But a more timid woman in my place may not have spoken up and may have compromised her safety in doing so."

Unfortunately, Piya's fears are well-founded. For most Indian women, commuting alone after nightfall is a risk -- like in the case of the unfortunate Delhi call centre employee whose gang rape made headlines last week. The 30-year-old had just been dropped off at some distance from her home by office transport and was walking along with a colleague when she was forcibly pulled into a moving vehicle.

We can prevent such crimes from being perpetrated by taking a few safety measures, elaborated upon below:

1. As far as possible, don't commute alone at night: While the safety of women varies in every Indian city, the best way to prevent any untoward incident is to travel with a companion or two. There is safety in numbers and most times, someone looking to make trouble will target a lone victim rather than take on two or more people.

2. If it's very late, ensure you're dropped right to your doorstep: It's sheer foolishness to walk those last few yards to your front door just so that your companions are saved the inconvenience of taking a U-turn. It's simply not worth the risk in the wee hours. Get someone trustworthy to walk you right to your apartment or then have them stay on the phone with you until you're inside. It's not unheard of to find unfriendly elements lurking in stairwells and in elevators, looking to prey on women.

3. Keep your wits about you: If you get home with your iPod plugged into your ears every night, chances are you may not notice that shady-looking character who's been at the streetcorner daily just to catch a glimpse of you. Often, crimes against women are planned and the victim is stalked before the attack is carried out.

4. If you're taking public transport, don't allow strangers into the vehicle with you: It may be economical to share a taxi, but it's not safe late to do so after dark, especially if your co-passengers are all male. You don't want to find yourself in an awkward situation with them, nor do you want them to know where you live. Don't feel awkward or shy to get out of a taxi if you find that the rest of your co-passengers are all of the opposite sex. You don't owe anybody an explanation when it comes to your personal safety.

5. Make sure you're surrounded by people as far as possible: The corner window seat in the back of the bus may appeal to you, but at 10 pm that is not where you want to leave yourself vulnerable to anyone. Sit down near the front, where there are other commuters. The same goes for a train compartment -- don't board an empty one. Even when it comes to walking, take main roads wherever possible, even if they're the slightly longer way around.

6. Don't be too timid or afraid to speak up or stand up for your rights: There are times when you have to show a little bravado, even if you're not feeling it. For instance, it's common knowledge that a policeman cannot arrest or apprehend any woman between the hours of 6 pm and 6 am unless a female constable is present. If you ever find yourself in a situation where you don't feel safe, stand up for yourself. In fact, creating a scene may alert passersby to your plight and they may come to your aid.

7. Carry pepper spray to defend yourself: And make sure you know how to use it properly or you'll end up harming yourself. Used the right way, it can offset an attack by any man or men, however strong they may be.

8. Never give out your cellphone number while commuting: You may have a regular cabbie who's been ferrying you to and from work for a few months, but there's no need to give him your cellphone number. While the chances are slim that he'll misuse it, why take a chance? Protect your privacy at all times. Your cellphone should be a means of helping you out in a situation, not the cause of it.

Ladies, have you ever faced a problem while commuting late at night? How did you deal with it and what did the experience teach you? What precautions do you take for your own safety? Write in to us at getahead@rediff.co.in (subject line: 'My commuting experience') along with a photograph, if possible and we'll feature your entries right here.