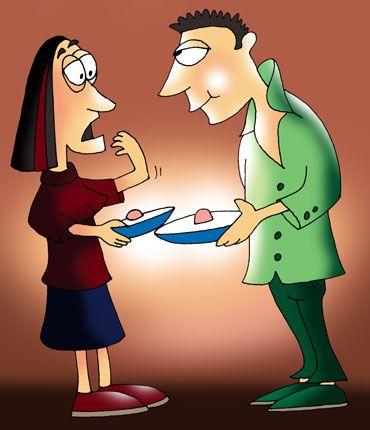 Tell us about that one special recipe that you and your partner totally love.

They say the way to a man's heart is through his stomach and we're sure that holds true for a lot of ladies too. After all who doesn't enjoy a good meal?

With V-Day looming large, we've decided that we'd like to hear from you about the one dish that you and your partner love.

Tell us about that special dish -- it could be something as simple as bhel-puri or a two-minute noodle recipe you both love or an elaborate chocolate fondue --
we want to hear how it's prepared!
We know the secret ingredient is love, but go one better and share the whole recipe that you and your loved one loves the most.
You know what to do! Send in the recipe, preferably with a picture of the dish and email it to getahead@rediff.co.in (Subject line: Valentine's Day recipe) and we will publish the most interesting ones right here on rediff.com!Illustration: Uttam Ghosh