"The idea is to inform industries about sustainable practices that will reduce their carbon footprint as well as boost their bottomlines," Smarter Dharma founder Sriram Kuchimanchi tells Geetanjali Krishna.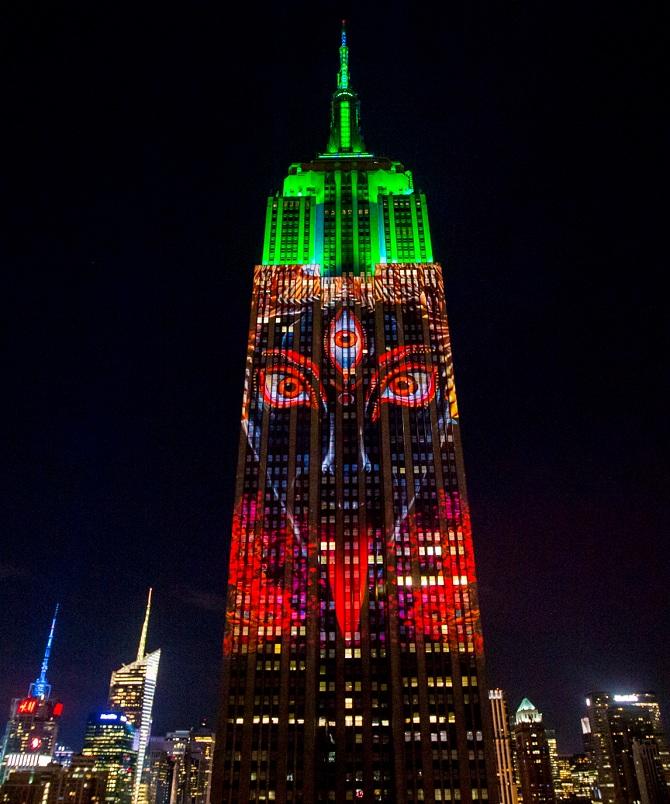 IMAGE: An image of Goddess Kali, as a representation of Mother Earth, was incorporated into Projecting Change: Empire State Building in 2015.
Photograph used for representation only: Courtesy Obscura Digital.
A couple of years ago, TAB India, a granite manufacturer, got worried about the growing amount of waste sludge that was being created during stone cutting and polishing. It approached Bengaluru-based consultancy Smarter Dharma for advice.
Now, the sludge is being converted into bricks, rated by the Indian Green Building Council as a green alternative to ordinary bricks.
Today, as TAB India is converting waste into a profitable resource, it seems ironic that more such smart sustainability solutions aren't more easily available to corporations.
This is the very need that Smarter Dharma fills. The firm works with corporates to improve resource efficiency, industrial processes, waste management and more.
"The idea is to inform industries about sustainable practices that will reduce their carbon footprint as well as boost their bottomlines," says Sriram Kuchimanchi, founder of Smarter Dharma.
When Smarter Dharma was born in 2012, Kuchimanchi and his team of engineers, architects and marketing professionals found that convincing businesses and individuals to change their behaviour was tough.
"People would ask me how the environment would be helped if they as individuals stopped using plastic?" he reminisces.
Early on, they realised that instead of simply asking people to stop using plastic, they needed to offer viable, sustainable alternatives to it.
Further, Sriram and his team realised that the solutions that they developed had to be economical and easily implementable.
"For example, when we designed a waste management plan for a hospital, we helped them build a biogas plant and then trained their employees to operate it," he says.
With their intervention, the hospital was able to reduce its energy consumption by 20 per cent, water consumption by 40 per cent and waste generated by 70 per cent.
Their modus operandi is simple.
"First we collaborate with clients to find areas in which they can become more environmentally sustainable," explains Kuchimanchi.
Then, they identify "champions" within the client company, who will act as the interface between the company and Smarter Dharma, and eventually, lead the charge towards sustainability from within the organisation.
With focus on three key sectors, hospitality, construction and textile manufacturing, the folks at Smarter Dharma have created a roadmap towards sustainability. "Essentially, this means we identify consumer patterns, work towards behavioural change and advocate for better policies on environmental sustainability," says Kuchimanchi.
Finally, within each sector they're working in, Smarter Dharma identifies a "champion", a company that acts as a role model for others in its sector and incentivises the entire industry to adopt socially and environmentally sustainable processes for business gains, like cost savings and lower attrition.
"Increasingly, we find ourselves working on advocacy for policy change," says Kuchimanchi.
Currently, they are working with the Federation of Hotels and Restaurants Associations of India on a unified policy, and guidelines on waste management. These can be used as a template for the industry at large to scale sustainability and social impact practices to all businesses.
At the same time, Smarter Dharma is also working on effecting behaviour change at the micro level. To this end, Kuchimanchi and co are working on a phone application, Dharmameter, which will allow users to gauge how environmentally sustainable their everyday behaviours are, and offer them solutions to improve their sustainability (Dharma) score.
Expected to be launched in July 2017, the app is based on the premise that if green solutions to everyday consumption patterns are easily available, users will be more likely to use them.
"We want it to have listings of restaurants that follow sustainable waste management practices; green alternatives to everyday products and much more," he says.
Smarter Dharma's project to convert granite sludge into bricks using over 80 per cent waste materials has won the Parivartan Sustainability Leadership Award 2016 for the most innovative waste reuse solution. The recognition is welcome, even though Kuchimanchi and his team know they have a long road ahead.
"Convincing people to change their behaviour isn't easy," says he. "But when the behaviour change is rewarded with palpable gains -- reduction in power and water consumption or better waste management -- I find they become motivated to do even more."
These are small steps toward a much-needed social and economic change -- or as Kuchimanchi would probably say, this is the way to smarter dharma.