The hyperlocal logistics company hires delivery boys to work for a diverse set of clients like Amazon, Bigbasket, Swiggy and McDonald's. Apurva Venkat finds out why clients and investors love it.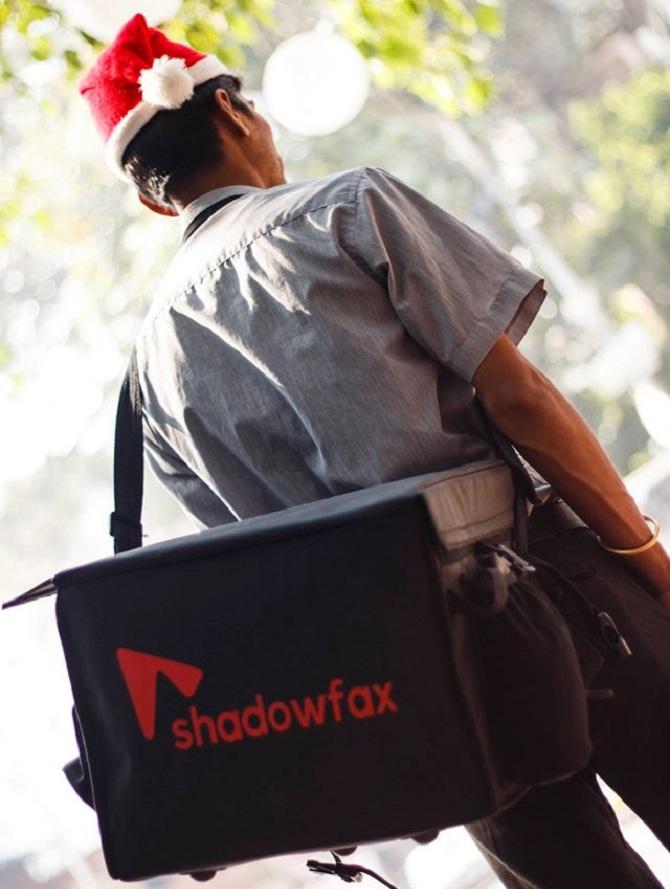 IMAGE: Shadowfax started in April 2015 with catering to the food sector, but on the strength of its growing clients it has today become an intra-city operator for a diverse set of clients. Photograph: Shadowfax/Facebook.com.
Akshaya Annappa, 24, was looking for a job through a friend. He was introduced to Shadowfax, an intra-city logistics firm that hires delivery boys to work on a part-time, freelance and full-time basis.
Annappa has been working for the portal as a full-time rider for the past one year and earns Rs 18,000-20,000 a month for nine hours of work.
Shadowfax was started in April 2015 as a hyperlocal logistics company, catering to the food sector, but on the strength of its growing clients it has today become an intra-city operator for a diverse set of clients.
"We work like an Uber model for delivery boys. We provide delivery boys for any business at any point of time and allow them to stay on our platform and earn money. All other players have in-house boys," says Abhishek Bansal, co-founder of Shadowfax.
Last December, the start-up raised $10 million (₹67 crore) from Eight Road Ventures, an existing investor, proprietary arm of Fidelity International.
The company grew its operations from one city to 11; it also grew 20 times in terms of orders.
It competes with Runnr, the merged entity of Tiny Owl and Roadrunnr.
Aditya Gurunath Systla, vice-president of Eight Road Ventures and also a board member of Shadowfax, says the reason behind investing in the company was that people would prefer buying products and goods in the comfort of homes and logistics was one of the enablers.
"We thought the business-to-consumer (B2C) model was cost-heavy. Therefore, Shadowfax was in the B2B space. It was essentially enabling companies with their deliveries. While Shadowfax started its operations in the food sector, what we liked the most is its ability to pivot across categories over time. This has made its unit economics-positive and keeps a continuous inflow of work and delivery boys," said Systla.
Fact Box
Founded in: April 2015
Area of business: Intra-city logistics
Founder: Abhishek Bansal and Vaibhav Khandelwal
Funding: $10 million from Eight Road Ventures
Orders: 30,000 orders per day
Target: 100,000 orders per day by the end of 2017

Opportunity
Currently, there are a million shipments each day for e-commerce portals and 2-3 million a day for food grocery and pharmacy products with an average of ₹60-70 per order, making it approximately a $1.5 billion industry. The same is expected to grow 20-30 per cent in the next few years, making it a $4-5 billion industry by 2023.
"According to research, a consumer gets products delivered seven-eight times a month. We see a lot more online transaction happening and a huge opportunity for delivery. In all online transactions the key is logistics," said Systla.
The company also sees a huge opportunity in reverse logistics, which is when the company picks up products customers return. In terms of reverse logistics, Shadowfax says it is the second-largest company in India currently, the largest being Nuvo Logistics.
The company anticipates the number of delivery boys to grow at 15 per cent a month, with an attrition rate of 4 per cent, as compared to 20 per cent with similar players. In terms of deliveries per day the company is going 20 per cent month on month.
Business model
"We had to battle to make this model unit economics-viable. It took us six to eight months to figure that out. In 2016 after Series-A, to get our next funds we had to get good fundamentals in our company," said Bansal.
Shadowfax has developed a model by which it has identified the peak timings of each sector it works in. According to the company, this has helped them to thrive in the sector at a time when most people have shut up shop.
"We work with food grocery and e-commerce and have aggregated the demand in such a way that any point of time anyone who comes to the platform will get orders. Grocery has a peak early morning between 8 and 11, and in the evening between 5 and 11. Food has the peak at noon to 3 in the afternoon and 8 to 11 in the night," said Bansal.
Explaining how the model works, Bansal says Shadowfax tells an outlet like Mcdonald's, which has an internal cost of delivery of ₹70, that it would do the delivery at ₹55. Of this Shadowfax gives ₹45 per order to the delivery boy. If the delivery boy works for four hours and does 10 orders, he can earn up to ₹450.
The company has an exclusive partnership with Amazon for all the latter's deliveries, and it also promises one-day deliveries. It counts Bigbasket, Swiggy and McDonald's as its clients.
The company has three models to on-board delivery boys. The delivery boys can on-board as full-time, part-time as well freelancer (no fixed working time or days). They need to give their Aadhaar number and through that a complete background verification takes place.
Of the 2,500 delivery boys, around 20 per cent are college students.
Challenge
The biggest challenge, according to Bansal, is driving efficiencies in the number of orders per hour through the day. "Logistics is a very execution-heavy game and one should be able to execute the whole process well," says Systla.
A lot of logistics companies either pivoted their model or shut up shop in 2016. Systla says one has to figure out how densely a company can spread so as to keep a good flow of orders running throughout the day.
Other than this an important challenge seen in the industry is high attrition levels among the delivery boys. In the unorganised sector, the attrition level is as high as 20 per cent a month and in the organised space it is close to 15 per cent a month.
Road ahead
The company plans to cover 10 more cities in the next 12 months.
The company processes close to 30,000 orders each day and plans to increase this to 100,000 orders per day by the end of this year.
It also plans to be completely profitable in the next one year.
"Any products or goods moving intra-city should be through our platform. We also plan to on board at least 10,000 more delivery boys on the portal," said Bansal.
On the immediate basis the company wants to expand to as many cities as possible.
The company will also be looking at tie-ups with more restaurants and retailers to keep the order rate going throughout the day.
• Meet delivery 'boy' Sreekumari S
• The Uber threat to Swiggy, Zomato
---
Expert Take
Retail e-commerce sales in India saw an increase of 75.8 per cent in 2016 compared to 2015. Much of this expansion is due to surging smartphone adoption among the new-age Indian consumers.
It is not surprising that Shadowfax has grown its clientele, acquired more funding and is exponentially multiplying its resources to cover more locations and segments. Last-mile and first-mile efficiency in logistics is set to touch a new high in the next decade. For that to happen, logistics will have to take over the role as an enabler for online retailers even more than they do today.
Shadowfax has the added advantage of being ahead of the game, shown through the consistency of their strategies and the mindset to pivot.
The industry still faces challenges: Almost 20 per cent of the addresses given to delivery service organisations are wrong: they have incorrect spellings, wrong pin codes, multiple localities with similar names in a town, etc. Deliveries are still scheduled over phone calls and can be done only when the customer is present at home, thereby resulting in multiple visits in the same area. Missed deliveries mean a higher burn rate, for every 100 deliveries, a delivery boy needs to make 140-150 visits.
The ratio increases to 230-270 in the case of reverse logistics.
Kudos to the stupendous team at Shadowfax, because unlike its competitors, it has avoided the risk of becoming dormant by rapidly hiring to compensate lost personnel. Its business model makes it ideal for personnel to join and leave at their own leisure and whim.
With a strong focus on innovation, the sooner Shadowfax focuses on building a stronger revenue model from multiple verticals, the better for its growth and sustenance.
-- Gotama Gowda founder, CEO, Open App,
a company that specialises in IoT based security and storage for Enterprises