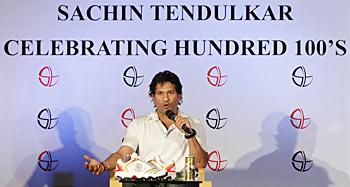 The Little Master's new hairdo seems to be making more waves than his IPL performance, according to Malavika Sangghvi.

Okay, here's a test: how many of you watching Sachin Tendulkar score his century of centuries recently were also noticing and commenting upon his newly straightened hair?

Yes, that's what I thought. Not only do clothes maketh a man, hair does too. You can be the most loved and celebrated man in India, a demi-God, a legend, but clearly that's not enough: if your hair doesn't feel right, you don't need a Vidal Sassoon to tell you that.

Living legends do have bad hair days too. And they can occur on days when they break every cricketing record in history.

Let us not underestimate the importance of appearance: Gandhi predicated a revolution on what people wore. The spindle of the spinning wheel was as much part of his artillery as his words and actions. What a man wears, how he appears, what we take away from looking at his photographs decide our responses more than we'd like to imagine.

Recently a picture of Tendulkar with newly straightened hair and in a questionable pair of sunglasses and shirt has attracted as much comment from his fans as has his political entry.

The general drift: We don't want you in politics and we really liked your reconstructed Afro, Sachin Sir. Can we have you back?

Hair on the head, face or body is a matter of public interest that's not to be underestimated. Recently, when Rahul Gandhi grew a beard during his long and arduous Uttar Pradesh campaign, it was surmised that he was creating a new image for himself: gone was the chocolate box baba log Lutyens persona -- here
was a hirsute and rugged individual at home in the badlands of UP.
Similarly, when M S Dhoni walked out of his hotel the morning after he'd captained his team to win the World Cup last year with his new buzz, it was somehow in keeping with the spirit of triumph and celebration.
In India especially, where hair is shorn off to mark solemn religious events in people's lives (the shaving of hair at temples or at the cremation of elders), we are yet to acknowledge this as an important aspect of image building.
Aamir Khan had cottoned on to the hair thing long before most people. Every new film of his presents him with a new hairstyle: from the gelled locks of
Dil Chahta Hai
, to the buzz of
Ghajini
to the crop of
Lagaan
-- it's almost as if the actor uses his hairstyles as props in his films, or a detail of his marketing blitzkrieg.
Where would the Beatles be without their mop-tops? Charlie Chaplin and Hitler without their moustaches? Einstein without his cloud of hair -- almost a halo highlighting his extraordinary brain? Would Jesus have been as worshipped if he'd worn a mullet? Or Obama if he'd had dreadlocks?
There is a very famous and respected businessman -- a man not given to shallowness or superficiality -- who surprised his friends when in the late '70s he underwent a series of painful and arduous hair transplants.
Mind you, this was in the days before the surgery had been refined. And no one quite fathomed why a man who appeared to have every thing would put himself through the pain and teasing. But as I watch him assume a leadership role today in the country's business sphere, I can't help applauding his decision.
So go back to your Afro, Sachin. Don't let us down!
Photograph: Vivek Prakash/Reuters