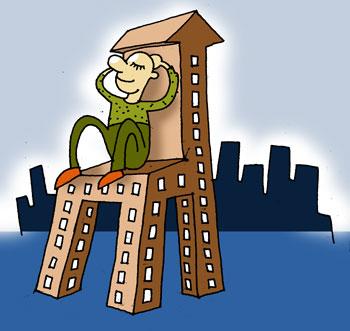 Dhaval Kapadia, Director, Portfolio Specialist, Morningstar Investment Adviser (India) answers queries
Illustration: Dominic Xavier/Rediff.com
I am due for retirement in a year. I have got some money invested in various fixed deposits and a few other places. I want to consolidate and invest it all in a reliable and dependent pension fund where I can get an assured pension on monthly basis.
Can you suggest any such pension funds?
Chandrakant
There are a limited number of investment options that can provide an assured pension. These typically include annuity plans and fixed deposits.
The returns from such instruments tend to be low (being assured in nature), may not beat inflation consistently and are taxable. Hence, one may not be able to meet one's investment objectives (or spending requirements which increase due to inflation) consistently unless one invests a significant amount of money, which would compensate for the low return potential.
On the other hand, there are a few pension or retirement funds available on the mutual fund platform. Some of these funds also provide tax benefits under Section 80C of the Income Tax Act with a deduction of up to Rs 150,000 per financial year on investments.
These funds invest in a mix of equity and debt in proportions ranging from 30 per cent to 100 per cent in equity and the remainder in debt, during the pre-retirement phase and typically up to 40 per cent in equity during the post-retirement phase.
Post–retirement, one can withdraw from such funds through a Systematic Withdrawal Plan, or SWP, either at a monthly, quarterly, semi-annual or annual frequency.
The SWP amount can be fixed at the time of retirement (which could typically be based on your spending requirements) and would continue till the investment corpus is exhausted.
Since the corpus is invested in market linked instruments it could fluctuate based on the market value of the underlying holdings. But the partial allocation to equity would provide the potential for generating returns that are consistently higher than inflation over the longer term.
Based on one's risk appetite other hybrid funds like Monthly Income Plans, or MIPs, can also be considered, wherein the allocation to equity ranges from 5 per cent to 30 per cent.
If a lumpsum investment is made, an SWP could start after 3 years to avoid higher debt taxation. Tax benefits outlined above are not available for investments in MIPs or other hybrid funds.
One could select to invest from the above options (or a mix of the options) based on one's risk appetite and investment objectives/spending requirements.
Courtesy