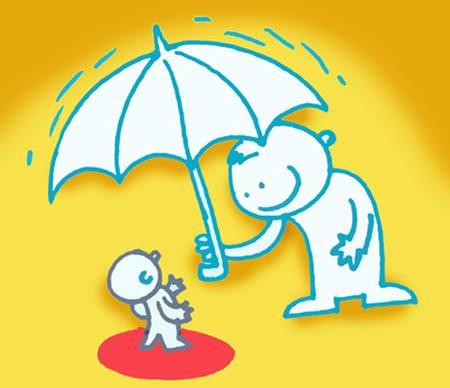 Here is what you must know about e-insurance account
Illustration: Dominic Xavier/Rediff.com
The world is moving towards digitisation which offers a paperless and an easy way of data availability. E-books, online fund transfer, GPS, e-newspaper, demat account; all these are the examples of the growing boom in the world of digitisation.
With digitisation entering into every sector of the market and making everything easy, the insurance sector is also not left behind.
With the introduction of e-insurance account, you will be able to keep all your insurance related documents in a digital format.
Managing your insurance policies will become paperless and hassle free.
Now, you don't need to maintain and search for policy related documents in a physical form and need not worry in case you lose them. Everything will be available at a click. The concept is similar to demat account which is used to manage documents electronically for shares and securities.
What is an e-insurance account?
e-Insurance account stands for 'Electronic Insurance Account; which is a facility to help people manage their insurance policy in a digital and electronic format. This facility will provide access to your insurance policies through e-insurance account instantly at a click of a button.
You will be able to manage different policies of different insurance companies through your single e-insurance account. The individual will be allowed to have only one e-insurance account to manage the insurance portfolio and no multiple e-insurance accounts can be held.
There is a unique e-insurance account number which you get after your account is active. You can quote the e-insurance account number in the proposal form to get an electronic policy issued.
Who maintains e-insurance account and how does it work?
The service of e-insurance account will be provided by IRDA (Insurance Regulatory and Development Authority) certified insurance repositories that will be responsible for maintaining your policy related data in digital format. Insurance repository is an entity which has been granted certification by IRDA for acting as an insurance repository and maintaining data related policies in digital format on behalf of insurers.
Till now, following repositories have been certified by IRDA for acting as an insurance repository for you.
NSDL Database Management Limited
Central Insurance Repository Limited
SHCIL Projects Limited
Karvy Insurance Repository Limited
CAMS Repository Services Limited
You get the option to choose from the above mentioned insurance repositories to open your e-insurance account. The insurance repository will provide you with a unique insurance account through which you can maintain all your policies with a single account, similar to how investors hold dematerialised shares in demat account.
How to get an e-insurance account?
To get an e-insurance account, firstly you need to download the account opening application form of your chosen insurance repository (IR).The application form is available on the official website of the insurance repositories and on your insurance company's website. The account opening application form is also available at offices of different insurance repositories.
Fill the account opening application form and provide requisite documents like id proof, address proof, passport size photo, cancelled cheque, etc. Having a PAN card or Aadhar card is necessary for opening an e-insurance account.
After filling the form and submitting the required documents, you will get a welcome kit which will contain details of your account along with the user manual.
If you have an existing policy then it can be converted into digital format easily.
Who can apply for e-insurance account?
The facility of e-insurance account is not only limited to policyholders. A person who is not having any insurance can also open an e-insurance account. After buying a policy, a policyholder can give request for dematerialisation to the insurer or insurance repository or approved person.
An e-insurance account can be opened for minors y their heirs and guardians who propose on the life of the minor for a life insurance policy. A minor cannot open e-insurance account; s/he will need the proposer to open the account for him.
What are the benefits of e-insurance account?
By having an e-insurance account, you will not have to worry about the loss or damage of multiple policy documents. All your policy documents will be in safe custody and will be easily accessible when needed.
All the insurance policies will be available under a single account. You can access policy information and policy related documents easily from anywhere just by logging in with your ID and password.
You can pay your premium, make changes about your details (address, phone no., etc.), and request service (change in sum assured, nomination, etc.) from your insurer from this single account.
Even if you have policies from different companies, you can manage them all from your single e-insurance account.
For purchasing a new life insurance policy, you don't need to submit KYC documents to your insurer. By just providing your unique e-insurance account number, the KYC documentation required by the insurer will be fulfilled. You don't need to go through the multiple document submission for getting a new insurance policy.
How much does it cost to open an e-insurance account?
An e-insurance account is completely free. The policy holder will not have to pay any fee for opening an e- insurance account. All the repositories are paid directly by the insurer whose policies are held by the respective repository.
Harjot Singh Narula is founder and CEO, ComparePolicy.com