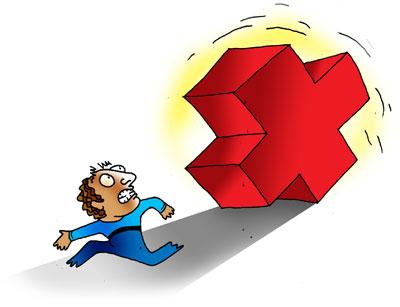 Here's how you can avoid these claim rejections, says Mukesh Kumar, Executive Director, HDFC ERGO General Insurance Company
Illustration: Dominic Xavier/Rediff.com
There are instances when insurance claims are rejected by the health insurance companies. A claim rejection means a major financial loss to the policyholder, since s/he has to pay for the medical expenses from her/his own pocket. Insurers often cite reasons -- known as Exclusions -- which the policyholders seem to have little idea about.
In such instances, the policyholder feels disappointed -- and also feels cheated at times. However, like prevention is better than cure, knowing Exclusions -- what will not be covered under a health insurance policy -- can help policyholders save disappointments at the time of claims.
Health insurers incorporate a number of Exclusions in their health insurance offerings to prevent customers from taking undue advantage of a service that is essential. The claims are typically rejected as per the terms and conditions printed on the policy documents.
Unfortunately, policyholders do not read the Exclusions at the time of taking the policy. Almost all health insurance policies come with some common Exclusions, without which the health insurance business may not be sustainable.
Let's understand some of these common Exclusions that are not covered under the health insurance policies.
Pre-existing illnesses
Almost all health insurance policies come with this Exclusion. Health insurance companies do not cover diseases that are already detected in the policyholder.
Generally, pre-existing diseases are not covered for the initial few years (typically, three-to-four years). For instance, if someone is suffering from high blood pressure, then any medical expenses occurred due to that will not be covered for first few years.
This is done to prevent people from taking insurance just before getting admitted to hospital for an existing medical condition.
However, some pre-existing conditions are covered in the group health insurance offered by many insurance companies.
Waiting period
Health insurance companies generally do not give cover for any treatment within a period of 30-to-90 days (depending on the provider and medical condition) from the date of issuance of policy.
This is to done to prevent individuals to take health insurance policy on the discovery of medical condition or just prior to hospitalisation. There is a waiting period of around 2 years for particular diseases and treatments like surgery on tonsils and sinuses, internal tumors, cysts etc.
However, there is no waiting period for medical expenses caused due to accident.
Permanent exceptions
All health insurance policies come with a list of illnesses that are NEVER covered under them at all times.
Some of the common Permanent Exclusions include AIDS and HIV-related diseases (as there is no cure or effective vaccine to fight the disease, only treatments to slow its progression), dental treatments, cosmetic surgeries, birth control procedures, hormone replacement therapies, infertility etc. and routine medical care, eye and ear examinations and cost of spectacles.
The reason for including these under 'Permanent Exclusions' is that most of these are considered cosmetic surgeries, and not genuine medical conditions.
Waiting period for selected diseases
Almost all health insurance policies have 'Waiting Periods' for a list of selected diseases. The selected illnesses will not be covered for first few years, which is generally 2-4 years.
For instance, if you take a policy in 2016, the selected diseases may be covered only in 2018 or 2020. If the policyholder gets hospitalised for the illness under the waiting period in the first year, the claim will get rejected.
This is very important Exclusion, which the policyholders do not pay attention to, and blames the company for not honouring the claim.
Some of the common selected illnesses which are subject to a specific waiting period are dilation and curettage, ENT disorders and surgeries, deviation and sinusitis, kidney stone, gall bladder stone, arthritis, spinal disorders, joint replacement surgery and osteoporosis, cataract, internal tumors, skin tumors, cysts etc.
Insurance as a concept is designed to cover uncertainties and potential problems. As a concept, insurance is not meant to cover something that is certain or obvious -- else the industry will not sustain.
A health insurance policy is meant to get covered from future health problems. But people tend to take health insurance after a health problem is discovered.
Covering such conditions would be against the economics of insurance business. The ideal time to take a health insurance is when one is healthy and fit; to make sure they get covered for any long-term medical issues.