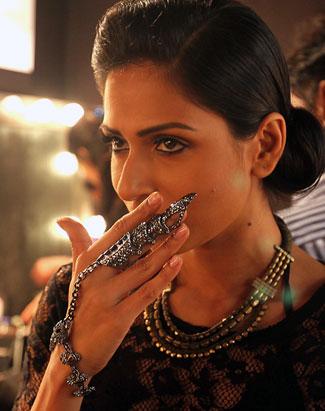 18-year-old Paloma Sharma had never been to a fashion week until a few days ago. She writes about what it feels like to stick out like a sore thumb.

What do you get when you put a fat girl in loose-fitting clothes and newly waxed eyebrows (thanks mum) at the finale of the Lakme Fashion Week, in the green room, bang in the middle of all the models and the stylists?

You get the ultimate Ugly Betty moment; and it lasts a lifetime.

Oh, awks.

I'm no critic of fashion. Unfortunately, I am not blind to the reality of the times that we live in, either. It is hard to not see the stark contrast between the world outside the Grand Hyatt (the venue for the Fashion Week) and the world inside the magnificent hotel.

It is quite impossible to ignore the slums, the muck, the dirt outside Bandra Station, on the East side, when one tries to find a rickshaw to Kalina (where the grand event is being held). Or the number of barely-clothed children sitting on footpaths or begging at traffic signals during the thirty minute ride. What disgusts me is the sense of relief that I felt once my eyes could finally rest on the serene fountains built in the lush green gardens of the venue.

How did I become this way?

I suppose all of us are tired of witnessing the darker side of things. But not all of us have the resources to find a distraction; and those who do, make it a point to keep those means close to their chest.

High fashion is an escapist fantasy at best, the tallest ranks of which shelter and stoke the egos of the haves; for who else could indulge in the pleasures of purchasing a single piece of clothing for a few measly lakhs when onions are being sold at a staggering eighty rupees a kg?

Don't get me wrong - I have nothing against clothing and the people who strive to make it more beautiful. I do not understand, however, why the 'best' of fashion exists in such a narrow spectrum.

The USP of high fashion seems to be its exclusiveness. 'Exclusive' -- the word has been so overused in advertisements and TV programs that we've almost forgotten to question what it means.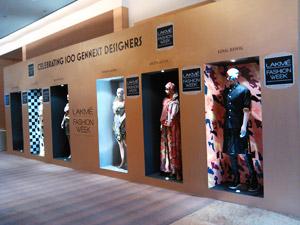 Exclusive -- not to be shared with others.

I'm not asking for high fashion to follow populist trends. But why must the best only cater to a small section of society? It seems that keeping people out of their glamorous world is a part of the game, almost as if they were keeping it 'clean'.

It is rather amusing to watch known designers take inspiration from 'street fashion' and sell their creations to the very people who would probably call that cute little T-shirt you bought at Churchgate for Rs 50, 'down market'.

So what exactly was a killjoy like me doing at Lakme Fashion Week? I don't really know. But I'm glad I had a look at the thing first hand.

Honestly, I was quite excited about it. I had my own rosy ideas of how fun it would be. I was expecting an out-of-the-world experience when I sat in the audience for my first show ever -- Shyamal and Bhumika's collection inspired from 16th century India. But nothing happened.

It was like a cold, dark void in the packed hall with loud music as I watched the first row, full of serious buyers, discussing designs with their associates. As magnificent as the clothing looked, I could only wonder to myself about who would have the means to buy it when the rupee was touching 68 against a dollar.

Let's face it, us middle-class kids from the 'burbs can't even afford to spell high fashion and at every step of the way, we'll be made to feel like we don't even have the right to discuss the subject, to even aspire to have those clothes unless we mould ourselves into copies of 'appropriate people' like being who we are is a sin.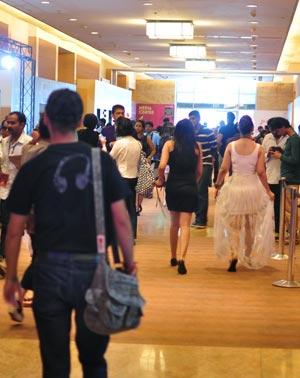 So I guess what I was really doing at Fashion Week was sticking out like a sore thumb, like I didn't belong there. I suppose that should explain why the five-minute talk I had with the security guard, who hails from Allahabad, outside the hotel was more meaningful than the two hours that I spent at the event itself.

Stripped of the ideals of glamour and status that is attached to it, Fashion Week is nothing but a trade show and high fashion is a carrot that all us donkeys can chase but never have; because we're just not the right breed, you see.

I may not be very knowledgeable about fashion but I do love pretty shoes and pretty dresses: who doesn't? But when it comes to 'high fashion' and all the elitism that comes attached with it, I'd much rather go with the small-time designer with a little blog-shop on the internet, who keep their designs fresh and their attitude inclusive.

High fashion is severely low on soul.

Photographs: Rajesh Karkera and Dominic Xavier