Keep a tab on your sugar cravings, says diabetologist Dr Pradeep Gadge.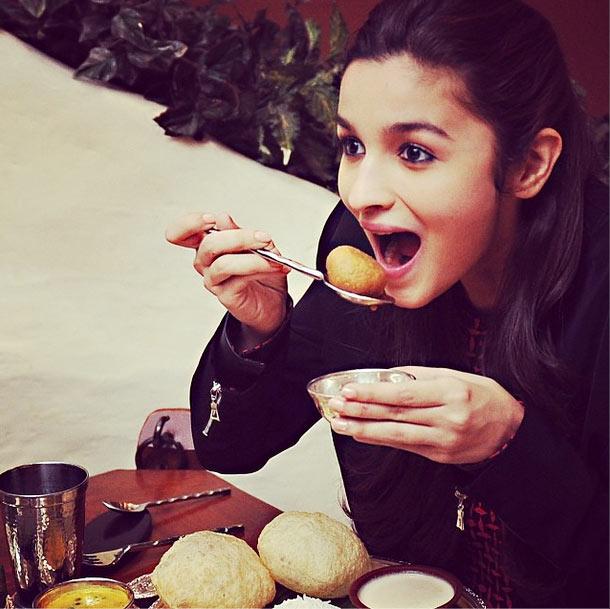 IMAGE: Watch out what you eat during Diwali. Photograph: Kind courtesy Alia Bhatt/Instagram
Diwali is synonymous with sweets and sugar and for people with diabetes, the festival can feel like a daunting prospect.
The high sugar and fat content can affect blood glucose levels and increase your body weight.
Here are some quick tips to help you survive the festival.
1. Follow the diet
The key to control diabetes is to remember and religiously follow the cardinal rules of a diabetic diet.
2. Say no to refined flour
Anything that contains refined flour (maida) and sugar should be strictly avoided.
3. Make your own sweets
This time consider making your own sweets.
Apart from reviving the traditional way of celebration, you will be able to control your sugar intake in a better way and even go sugar-free.
4. Eat with a partner
The smartest way to reduce portion size would be to eat in groups and sharing it with your friends.
Sharing means you take a smaller portion size.
Make smaller sizes of sweets and other delicacies and in smaller quantities. The more you make, the more you will be tempted to indulge
5. Test your sugar levels
If you have a blood testing monitor, don't forget to test your blood glucose levels more during the festivities and before every meal to make sure they don't get too high.
6. Increase physical activity
Take the stairs instead of the lift, take a walk to their friend's place and involve them in Diwali preparations. These easy, everyday activities help burn a lot of calories.
7. Limit alcohol
Alcohol interferers with the body's ability to break down carbohydrate which can cause hypoglycemia in diabetics.
It not only blocks the generation of sugar within the body when it is most needed but also masks the critical symptoms of hypoglycemia such like hunger, palpitation and sweating.
8. Do not stay up till late hours
Although the festive season calls for late night gatherings and fun filled times with friends and relatives, avoid staying up till very late as it could interfere with metabolism.
Make sure to get good 6 to 7 hours of sleep so that you can continue with the festivities.
9. Prepare them for the evening
Along with preparing sweets and other food items with artificial sweeteners, one can prepare the body for the evening.
Add food with low or minimum calories from the morning so that the body can easily digest one or two sweets in a day.
The above tips are meant to help you stay healthy during the festival.
Diwali brings families together and food is an important part of the festivities, so just because you have diabetes, you shouldn't miss out on the food.
The author Dr Pradeep Gadge is chief diabetlogolist, Gadge Diabetes Centre.