In our weekly roundup, get the latest news from the world of fashion and entertainment.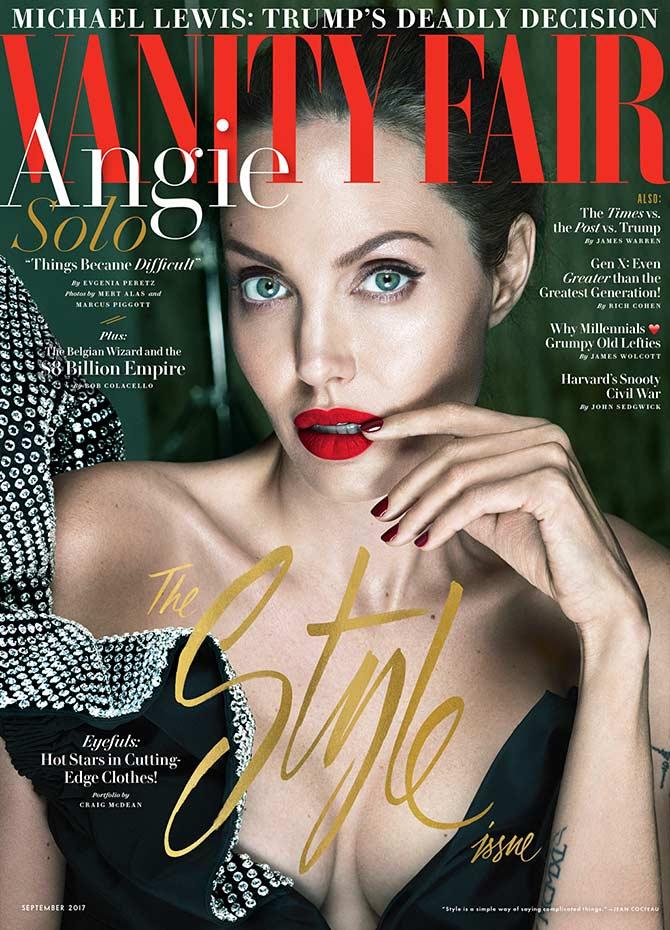 Photograph: Vanity Fair cover
Angelina Jolie is back in the news!
The actor appeared in what seems to be her first ever magazine cover post her divorce with Brad Pitt -- it's been over a year since she separated from him.
Flaunting her glamorous side on the Vanity Fair cover, the actor looks straight into the camera, dressed in a black cleavage-barring number and her lips painted red.
Her painted nails and green eyes add to the drama on the cover and it looks like Angelina has come out stronger post the divorce.
Angelina opens up about life after Brad in the Vanity Fair interview, which also talks about her being a single mother and putting up a brave face for her children.
Last September, Angelina Jolie filed for divorce from Brad Pitt "for the health of the family," packed up her things and moved out with their six children, reported Billboard.
Occupied with her acting, directing and humanitarian work, Angelina added in the interview that she has also started lecturing at London School of Economics.
She went ahead to reveal that post her divorce, she and her six children were living out of a suitcase in a rental space for nine months.
---
'I really wanted to be financially independent by 18'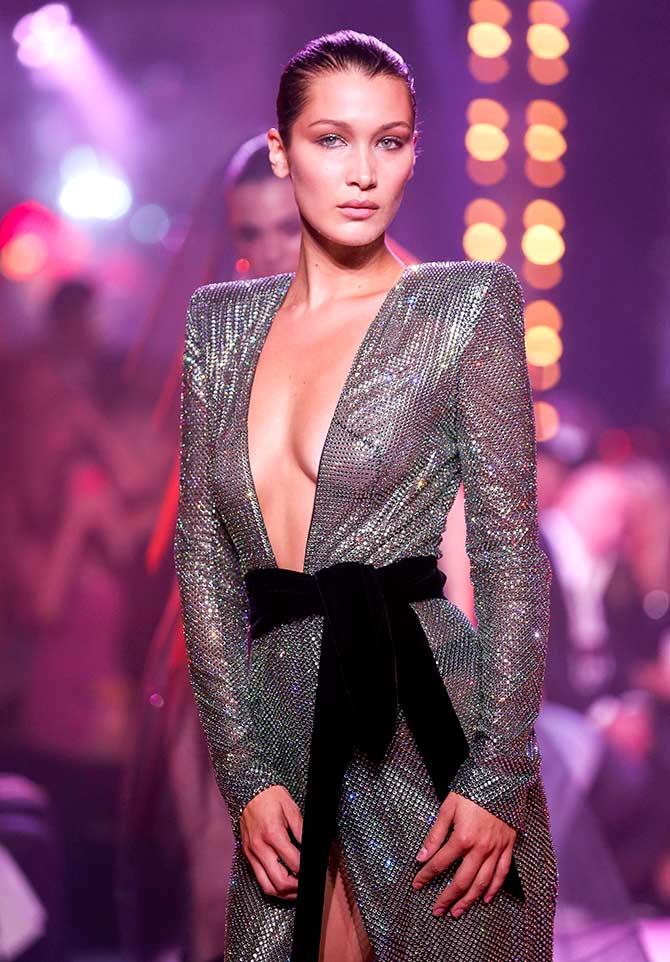 Photograph: Thierry Chesnot/Getty Images
Supermodel and Victoria's Secret angel, Bella Hadid always valued her parents' hard work and growing up, she disliked spending their money.
The model is the younger daughter of Mohamed Yolanda Hadid.
The 20-year-old catwalk star says she wanted to be financially independent as soon as she came of age, so that she could repay them in any little way possible, reported Elle magazine.
"I saw my dad come to America, start fresh and build up to what he has now.
"He left Palestine and came to America when he was older and started making the money.
"People can say whatever they want about him, but I know how hard he worked to get where he is now."
"The only thing I can do to repay them is work as hard as they did. I never liked spending my parents' money.
"So when I turned 17, and I was able to start having my own career, the only thing I really wanted was to be financially independent by the time I was 18, which I ended up doing," Hadid said.
---
Cara Delevingne didn't approve of herself as a model!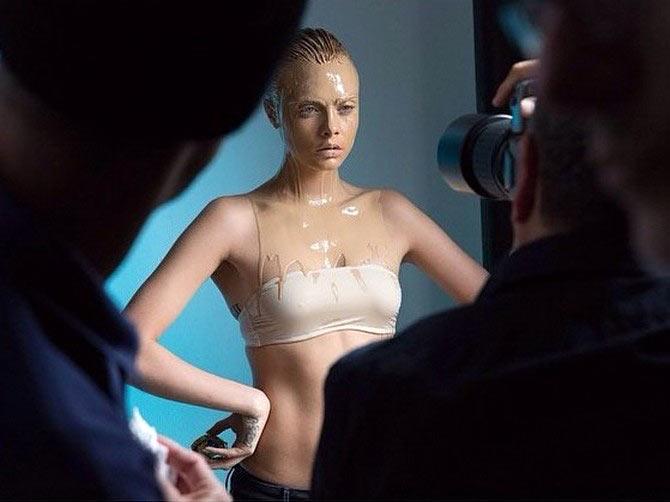 Photograph: Kind courtesy

Cara Delevingne/Instagram
Cara Delevingne said she did not like being called a model as she didn't like her transformation into another individual altogether.
The 24-year-old model-turned-actress said she had become superficial as she started paying a lot of attention to her looks, reported The Radio Times.
"I didn't like myself as a model. I didn't like what I stood for.
"I didn't like what it was turning me into. Not that I was focused about how I looked all the time, but it is kind of about that.
"Now when I'm a model, I get to style my own shoots and decide who I work with.
"Now it's become a creative outlet, instead of me being used as a pawn," Delevingne said.
Way back in 2015, the model opened up about her sexuality.
The 22-year-old British model said that she thought that being in love with her girlfriend was a big part of why she has been feeling so happy with who she was.
"I think that being in love with my girlfriend is a big part of why I'm feeling so happy with who I am these days," Delevingne said. "And for those words to come out of my mouth is actually a miracle."
Cara went on to talk about the challenges she encountered while embracing her sexuality... a process that continues to this day.
"It took me a long time to accept the idea, until I first fell in love with a girl at 20 and recognised that I had to accept it," she explained.
---
Bigger the better! Chrissy Teigen wants to have 'biggest family'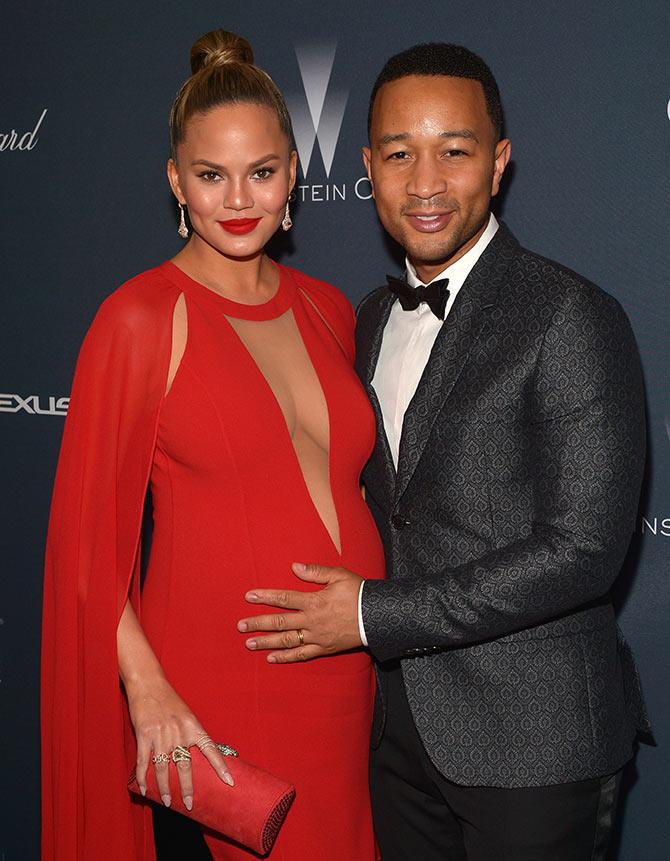 Photograph: Charley Gallay/Getty Images
Supermodel Chrissy Teigen says she wants to have the "biggest family" and it is one of the things that is always on her mind.
The 31-year-old fashion diva says she wants to expand her brood, but for now her one-year-old daughter Luna is more than a handful, reported E! News.
"I probably think about it more than anybody. I cannot wait to have the biggest family. Everybody is curious. They're like, 'When are you going to do it? When are you going to do it? When's the process going to start?'
"It's so fun absorbing baby Luna right now. I think I'm enjoying my time absorbing and seeing everything -- all her new little steps and new moments -- and being there for them."
The model is married to singer-musician John Legend.