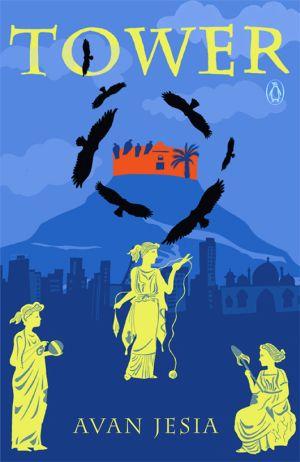 We've brought you two excerpts from the recently published work of fiction Tower by Mumbai-based author Avan Jesia, a "haunting saga of love and loss, spanning three generations of a Parsi family" (click here to read Excerpt I and Excerpt II).

With all the ingredients of a powerful piece of fiction, the book is a compelling read, heart-wrenching in places and hilarious in others.

Here we bring you a third and final excerpt from Part IV, The Fates - Atropos:

22 April 2007

My dearest son,

Another Sunday, threatening another dhansak dinner.

I'll just order in a pizza instead. I looked in the fridge and there were enough leftovers to last a week. I'm just going to trash the lot of it. Make a new start and all of that. Beginning with a ten-inch, thin-crust seafood pizza, extra cheese, mushrooms. Glossy with olive oil, blitzed in parmesan. With a glass or three of week-old but perfectly adequate wine of an undecided pinkness, a slice or two of freshly-baked banana pie that you'll always find in the fridge. If we were eating together, I may have made us akuri, or fried a few slices of bhing, that treacherously-boned fish that tastes like no other. Or maybe you would have talked me into ordering a thick-crust pepperoni instead.

It's your birthday next week. You'll turn twenty, which puts me smack at the start of my forties. The recommended age for the onset of a midlife crisis. I have charged into mine with gusto. The possibilities for reinvention are endless.

For instance I don't know what to get first: a nose-ring or a nose job. Perhaps I'm getting away easy, as far as midlife crises go. I've skipped the turn to spirituality which seems to be such a favourite of some of my contemporaries, I've been spared the born-again vegetarianism, I've sailed into my forties -- why fight the current -- with none of the fretful angst I felt on turning thirty. Now I am seventeen and a century.

To think that you are now twenty! It seems to me that the twenties are so far removed from any other decade in one's life. They stand alone, unrelated to the commotion of your teens, dismissive of the unlikelihood of their decade ever running out. The twenties are like the adopted sibling among decades, different-featured, instinctively tuned to the disconnect. Feeling the otherness in their bones.

The thirties and forties are much closer. They sound related, like they come from some heavier language, some thickly-consonanted Baltic tongue. They segue into each other without putting up a fight.

The pizza's here. Three hundred rupees and not enough shrimp.

So anyway, coming back to my well-mannered midlife crisis. Perhaps I should just be done with it: take the plunge and get my nose pierced, if not fixed. Fifty would be a ridiculous age to do either. Fifty. I shudder to think. Fifty in fact would be the perfect age to weigh up the choices you made, rhinestone or rhinoplasty. What do you suggest I do, my sweetie, just four days shy of twenty?

The pizza's gone cold.

Excerpted from Tower (Rs 399) by Avan Jesia, published by Penguin Books India, with the permission of the author.

Click here to buy this book!