Frilp will help you discover and share valuable information through word-of-mouth recommendations.
Looking for a decent restaurant that is not too hard on your pocket? Or perhaps a special ring for your girlfriend? Or maybe a cardiologist for your ailing father?
Where would you go? Who would you trust?
Helping you cut through the overload of information and make an informed and intelligent choice, would be a familiar face, a friend who would share his/her experience.
This is the concept behind Frilp -- short for Friend's Help -- a new global start-up company, designed by young and enterprising engineers from Chennai.
"We don't necessarily need 80 different reviews to inform us about the credibility of one single product. I am satisfied if a certain product or service has made my friend happy. I would rather trust my friend, than a hundred different reviews from people I know nothing about," says Shyam Anandaraman, co-founder and CEO of Frilp.com.
Frilp is an online social platform that helps one discover and share valuable information within trusted members of one's own network through word-of-mouth recommendations.
Senthil Kanthaswamy, 28, the co-founder of Frilp.com, says that the two major problems that consumers typically face while getting intelligence from the Internet is too much of information noise, and the anonymity of data.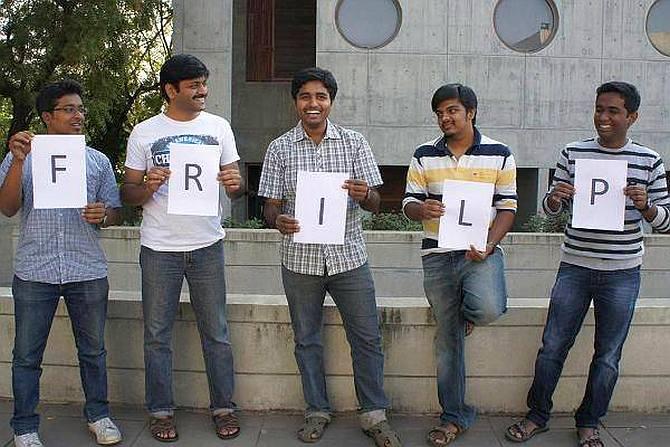 "An unbelievable amount of information on every possible product and service is available and you end up even more confused. Secondly, you have to trust the source or the person behind the information without knowing anything about them or their preferences.
"Frilp.com, however, is powered by your own network of trusted friends and an advanced algorithm that computes and presents the most relevant and personalised result based on who you are," Senthil Kanthaswamy explains.
"A new user can start by simply searching the existing recommendations shared by thousands of people. If the user's need is very specific, he can use the ASK feature to be answered with a recommendation by friends and experts by logging into frilp.com using his Facebook ID. Frilp determines the right friends, colleagues and other individuals who share common interests/likes with the user and routes the need to a handpicked individual, who can help with a recommendation, as well as surfaces any past recommendations by them," says Shyam Anandaraman.
"We have put together a process that makes word-of-mouth recommendations faster, efficient, intelligent, time-saving and cost-saving. Essentially, what Google did for information discovery; we are doing for decision making," he adds.
Frilp.com has been shortlisted at the Global Entrepreneurship Week as one of the top 25 most innovative new companies for their annual Startup Open, a competition that recognises start-ups that have high-growth potential.
Shyam quit his career as an analyst at Goldman Sachs in New York to return to India and start something of his own.
It was not an easy decision. "Mom and dad had worked really hard to get me where I am today. I was raised to believe that education was the only way to build your future. A job at Goldman Sachs, Wall Street, seemed like a culmination of all the hard work that I put in over the years. Yet I was not happy," Shyam recalls.
He returned to India five months after the birth of his son in January 2011. "It was a tough decision but today I am happy. There are no regrets," he says.
Shyam's old friend Senthil was working in Chennai as product manager at an ex-amazon.com start-up called Globalscholar. Shyam joined him. They worked in the same team and they shared ideas, discussed plans and market potential for new business products.
But, says Senthil, "it was a personal pain point that ultimately led us to figure out what we wanted to do."
Shyam was having a hard time trying to find his bearings in a new city. It was difficult to find genuine, reliable service providers and shops for even the most basic requirements.
"Though Justdial and Sulekha provided an impressive list of providers, Shyam made most of his decisions based on recommendations from me and other friends. This got us thinking. We realised that despite all the information available, people still preferred a trusted and proven recommendation, especially from friends and acquaintances and thus was born the idea for Frilp," said Senthil.
On digging deeper, they found that more than 30 per cent of the billions of queries that are posted on Google are subjective and most of them don't get answered. Also, Justdial which is just one of the local search engines in India got about 150 lakh queries every month.
There was clearly a demand for very specific information, but there were no clear-cut or definite answers for most of these questions.
A user would require a lot of due diligence and verification before he or she can take a decision based on these recommendations.
They decided to get to the root of the problem and put together a team that was passionate about solving the problem. "We initially set up the Turing Research Labs, and worked part time. But later, when we got an incubation offer from IIM-A, all of us quit our jobs."
Frilp.com was one of the top start-ups to be incubated and seed funded at iAccelerator, the flagship programme of the Centre for Innovation, Incubation and Entrepreneurship (CIIE) at IIM Ahmedabad.
Later in the year, Frilp was selected as one of the most innovative start-ups for the prestigious Stanford -- Rajeev Circle Fellowship. They were further motivated when Dr Ashish Goel, a professor at StanfordUniversity and an expert in recommendation systems and early member of Twitter joined their team.
Dr Goel had previously written the recommendation algorithm for Twitter and is currently helping the team make headway with the recommendation/intelligence engine.
Senthil says it was not easy to get funds, "but we were very fortunate to be supported from the time we started by a very diverse group of accomplished professionals and entrepreneurs who joined us as angel investors. They also mentor us and help in shaping the product, connecting us with people who can help us with our needs."
Frilp.com has a powerful core team of five with alumni from Goldman Sachs, GlobalScholar, Cognizant, Amazon and engineers from top engineering institutions in the country. Raja Jayaraman, 31, Anish Deenadayalan, 24, and Aravind Gopalan, 23 are the other founding members.
Senthil says that while building the platform they were particular about setting the right tone and quality of data. And the response has been simply amazing.
"We follow up on low-quality content, flag inappropriate/derogatory data, monitor the performance of the system, and generally keep a tab on things to understand the user pulse, the popular searches, latest trends etc.
"Today Frilp has got more than 7600 recommendations of businesses from credible people and is growing steadily. Our blog page, where experts share their experiences posting favourite haunts and other interesting tit-bits is already a huge hit."
The future is about expansion.
"We have expanded to Bangalore this month and the plan is to expand to one city outside India by the end of the year. The focus is going to be on user growth, strategic expansion in other geographies, complementing partnerships, developing our current algorithm/technology into strong IP and global positioning for further rounds of investment, to fuel faster expansion," says Senthil.
The Frilp team: From left: Anish Deenadayalan, Raja Jayaraman, Shyam Anandaraman (CEO), Arvind Gopalan and Senthil Kanthaswamy (COO)