Advertisement
October 07, 2008


Stay Hungry, Stay Foolish is the story of 25 IIM Ahmedabad [Images] [Images] [Images] [Images] graduates who chose the rough road of entrepreneurship. They are diverse in age, in outlook and the industries they made a mark in. But they have one thing in common: they believed in the power of their dreams. This book seeks to inspire young B-school graduates to look beyond placements and salaries. To believe in their dreams.

The book is authored by Rashmi Bansal, who is an entrepreneur and IIMA alumna herself. Rashmi is co-founder of JAM (Just Another Magazine) and writes extensively on youth, careers and entrepreneurship.

Presented below is the last excerpt from the book:

A SENSE OF OWNERSHIP

He is not the owner of the company but in every other sense works like an entrepreneur. The man behind the iconic Sintex water tanks believes in constant evolution and creation of new products. And after 34 years with one company he is still passionate about it!

S B Dangayach (PGP 1972 ), Sintex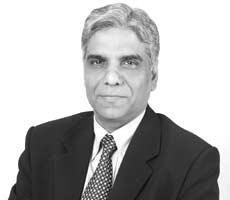 Chapter Introduction
It is a bit of a shock when you are interviewing someone for a book on entrepreneurship and the very first sentence he utters is: "I'm sure you know... I don't own this company, but in every other sense I am an entrepreneur."
Honestly, I did not know, and that's why you were shorlisted, sir. But I am intrigued and we get on with the interview. And I am glad, because Mr S B Dangayach of Sintex is a truly fascinating subject.
Management books often talk about being 'entrepreneurial' within a large company. Some refer to this as being  'intrapreneurial'. Both terms sound like terms from a Dilbert comic strip, to keep cubicle workers happy.
The idea of an 'entrepreneur' who is not an owner but completely synonymous with the success of the company seems equally farfetched. Sure, anyone from a trainee to the CEO can feel a sense of 'ownership'. But for how long? 3 years, 5 years, 8 years?
S B Dangayach has been with Sintex for 34 years. As he tells me the story of how he built this company he has all the fire, the feeling and all the fondness of a Founder.
Like a parent who deeply loves an adopted child and believes this is his own flesh and blood.
In the cutthroat world of business, a rare and beautiful thing.
Excerpt
Joining as marketing officer in September 1974, Dangayach was promised 'complete charge' -- if he proved himself. And that's what happened. By December, he was made General Manager. Of course there was no great structure in the company. So it was more an endorsement of the fact that a 22 year old can manage all the functions -- manufacturing, marketing, finance, accounts.
The entire gamut of business decisions from which products to make, the strategy to follow, securing the finance from institutions like GSFC, putting the production team together -- everything was in Dangayach's hands.
And there was no interference?
"Once I convinced them that I can manage, they played only a notional role."
The irony is that the small plastics division Dangayach took charge of became so big that the Bharat Vijay Mills became synonymous with it. The name of the company was one day to change to 'Sintex'.
The name 'Sintex' comes from 'sintering', which is a process. It was also apt because it combined the two products of Bharat Vijay Mills -- sintering and textiles.
What's more, it seemed easy to pronounce, easy to recall.
Today the brand 'Sintex' is synonymous with plastic water tanks. Almost like Xerox with xeroxing. But Sinter Plast containers actually came into existence to make industrial articles for the textile industry. Things like 'card cans' which are meant to handle cotton slivers.
But as luck would have it, the company did not succeed in marketing card cans. So it had to think of some other use for the plant. Sintex diversified into industrial containers -- for storage, transportation, processing and material handling.
It became a decent sized business. In 1975, Sintex did a turnover of Rs 3 lakhs. The next year the company did twenty lakhs, then sixty lakhs. In 1977 they had achieved break even.
"So we thought why not use this process for making something which has a bigger application?" And thus both a water tank and an enduring philosophy was born.
ALSO READ
For him, entrepreneurship was about making a difference
'I should feel I have given 120%'
'In busines you have to hope, persevere'
This IIM grad opted to be his own boss
'With entrepreneurship you can't afford a big ego'
Stay Hungry Stay Foolish is published by CIIE (Centre for Innovation, Incubation and Entrepreneurship), IIM Ahmedabad and available at all leading bookstores across India for Rs 125. Website: www.stayhungrybook.com