Advertisement
October 02, 2008


Stay Hungry, Stay Foolish is the story of 25 IIM Ahmedabad [Images] [Images] [Images] [Images] graduates who chose the rough road of entrepreneurship. They are diverse in age, in outlook and the industries they made a mark in. But they have one thing in common: they believed in the power of their dreams. This book seeks to inspire young B-school graduates to look beyond placements and salaries. To believe in their dreams.

The book is authored by Rashmi Bansal, who is an entrepreneur and IIMA alumna herself. Rashmi is co-founder of JAM (Just Another Magazine) and writes extensively on youth, careers and entrepreneurship. 

Presented below is the fourth excerpt from the book: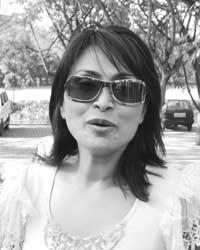 MILLION DOLLAR SEAMSTRESS
Ruby turned her hobby of designing clothes into a flourishing business. Her company Precious Formals, is one of the leading suppliers of prom dresses in America.
Ruby Ashraf Ruby Ashraf (PGP 1983), Precious Formals
Chapter introduction
It's the silver jubilee reunion of IIM Ahmedabad's class of 1983. Expanding waistlines and receding hairlines, everywhere.
Ruby Ashraf looks far too young and beautiful, to be here. A batchmate comes up to her husband Javed and remarks, only half in jest, "Ab to bahut saal ho gaya hain...still I say you are very lucky to be married to her!"
They smile like they've heard this before. But as you hear the story of their life, and the company they run together, you have to wonder, "Who's to say who's really lucky?" How many men would let a bright and beautiful wife take the driver's seat and enjoy the journey together as a co-passenger?
Ruby Ashraf is CEO of Precious Formals, a $10 million company in the fashion clothing business. Javed is her partner, both in personal and professional life.
Precious Formals sells prom dresses. For the uninitiated, the 'prom' is the high point of an American teenage girl's life. It is a kind of growing up ritual, not just a dance but a day to be remembered and treasured for years to come. The dress you buy for your prom is not just a dress, it's got to live up to a dream.
So how did an Indian woman with no formal training in fashion design enter this business and quickly make a success of it? Listening to Ruby relate how she made it happen I could only conclude, "Dil mein chaah, to niklegi raah."
Business plans can be made by anyone, but plans are not enough. Nor are they always necessary. Life has its own plan, you just have to flow and grow with it.
Excerpt
Ruby knew she would work for about five years and then set up her own company, like her dad. Of course, she never thought it would be in the fashion business. And she never thought it would be in America.
Ruby's first job out of campus was in the HR department of BHEL.
"I interviewed for two companies -- BHEL and Metalbox. I got both of them but I chose BHEL because it was in Delhi [Images] and I liked the job profile more."
Then, like so many women, Ruby got married and shifted to America. The year was 1987.
Initially, Ruby did not leave her job. "I went there and I was working on my husband to move to India. In the meanwhile, he was looking for jobs in the north, like New York."
And she was exploring the option of further studies.
Ruby got admission in Rice University in Houston to study Organisation Behaviour but her heart was set on Stanford or Harvard. She was willing to wait.
But destiny had other plans. An old and enduring love for clothes took her in a different direction.
Ruby always had the title 'Best Dressed Girl' of the batch. In fact, she used to design her own clothes. That hobby continued and she wore one such dress to an Xmas party at the university (where Javed was a professor at the time). The dress really got noticed. People said, "You have a real talent, you should be selling these dresses!"
But there wasn't much information available on the industry. There were case studies on textiles, consumer products, everything else. But nothing on apparel. So Ruby did her own case study. She travelled across America, visiting retail stores to understand fashion trends, what was selling and where her own niche might be.
"In those days there was nothing like CNN. I didn't know what the fashion trends were in the West. I really had to study it to know it."
That sounds kind of vague. Let me travel around America to see what dresses sell. Could this really be a serious gameplan for how to get into business?
"Basically my whole philosophy in life is the shlok from the Geeta -- 'Karmanyewadhika raste maa phaleshu kadachana' -- kuch toh karte rahna chahiye. At the end of the day, you should feel that I have given my 120% to it. And the day should not be wasted."
ALSO READ
'In busines you have to hope, persevere'
This IIM grad opted to be his own boss
'With entrepreneurship you can't afford a big ego'
Stay Hungry Stay Foolish is published by CIIE (Centre for Innovation, Incubation and Entrepreneurship), IIM Ahmedabad and available at all leading bookstores across India for Rs 125. Website: www.stayhungrybook.com