Advertisement
October 01, 2008


Stay Hungry, Stay Foolish is the story of 25 IIM Ahmedabad [Images] [Images] [Images] graduates who chose the rough road of entrepreneurship. They are diverse in age, in outlook and the industries they made a mark in. But they have one thing in common: they believed in the power of their dreams. This book seeks to inspire young B-school graduates to look beyond placements and salaries. To believe in their dreams.

The book is authored by Rashmi Bansal, who is an entrepreneur and IIMA alumna herself. Rashmi is co-founder of JAM (Just Another Magazine) and writes extensively on youth, careers and entrepreneurship. 

Presented below is the third excerpt from the book:

IT'S ALL ABOUT THE HONEY

Nirmal shut down his information services business in 1999 and put all his eggs in the internet baskey. His gamble paid off and today India Infoline [Get Quote] is one of the country's biggest trading platforms.

Nirmal Jain (PGP 1989), India Infoline 

Chapter introduction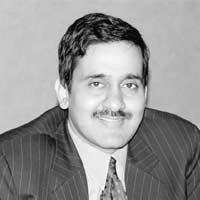 Everyone knows entrepreneurship is about risk. But how much risk are you willing to take? This is a question Nirmal Jain had to answer in the year 2000. He was willing to risk everything he owned to save his company -- India Infoline.
It was only a few months after the Gujarat earthquake, when one evening Nirmal and his partner Venkat thought out aloud, "Even if we lose everything, we should walk out of this and start something else or take a job. And we should think we survived an earthquake. At least we saved our lives!"
As it turned out, India Infoline survived and prospered. And how!
I arrive at the NSE complex in Goregaon for our interview, only to find I am at the 'wrong office'. There are several India Infoline offices in the same location. "Yeah it's confusing at times. You see, at one point we used to operate out of one small office. But now we've outgrown even the two larger offices we have here..." grins Harshad Apte, Nirmal's close associate.
Being in the right place at the right time is a crucial ingredient for success in any enterprise. I am in the right place but it's not the right time for an in depth interview as Nirmal needs to attend an AGM in less than 45 minutes! But life is about making the best of any and every situation so without further ado, we plunge right in.
Excerpt
Opportunity is about putting two and two together. Around 1991, with liberalization, the Indian financial services sector started attracting foreign capital. It was clear that the sector was poised for exponential growth.
"Having a strong academic background as well as a mindset for financial services I thought I'll get into this." But he was clear that he eventually wanted to be an entrepreneur. So instead of joining a foreign bank or FII he joined hands with two brokers, Motilal Oswal and Ramdev Agrawal, and set up an equity research outfit called Inquire in March 1994.
After a year and a half Nirmal decided he was ready to start something on his own. That something was 'Probity Research and Services Pvt Ltd'.
"Probity literally means integrity or honesty or independence. And is also an acronym for probe in equity which was our business -- analysis, investment analysis." The company's star product was 'Probity 200' which tracked the top 200 listed companies.
This made sense because these 200 companies account for about 90% of volumes and portfolio holdings. So there was a ready market for the information, not only with brokers but corporate, banks and FIIs. Probity also started doing sector reports. At around the same time, a company started by two IIM seniors, INFAC, was already doing industry research but they had left out a few sectors like oil and gas, FMCG, IT and pharma. Probity filled this gap and its reports got well accepted.
Right from 1995 (when Probity was set up) till 1999, stock markets were not doing too well. "The business could have done much better in a good economic environment," muses Nirmal. "But in a way it was good also because we learnt how to manage the bad time and go through the down cycle which probably helped us later."
The year 1999 was a turning point. In fact, turning point is too mild a word for the direction Probity would take. It was a complete change of direction. A wild gamble: all or nothing.
"The internet was becoming very popular, US media was talking of internet all the time. Someone came up with the crazy idea that if we put up all our research free on the web, instead of 250 clients we will have half a million clients. We literally implemented that idea and killed our earlier business model. We put up all our research free on our website."
In 1999, India Infoline had about a crore of revenue, Rs 10-20 lakhs profit. A call was made to give it all up. Forgoing revenue is fine, but what about costs? Those remain, and in fact, one had to invest in technology as well. So money had to be raised from friends and an angel investor.
R Venkataraman, an IIM Bangalore graduate with experience at ICICI [Get Quote], Barclays and GE private equity also joined the company as a co-promoter.
Despite early technical glitches the India Infoline website became popular. The content it served was unique and otherwise not available. Soon enough, the company attracted the attention of VCs. CDC Ventures (now known as Actis) invested $1 million.
Around this time the team reached one important conclusion.
"We realised that media selling and information services is not a business model which is scalable beyond a point. It won't be able to generate revenues despite the hype being created in those days about Yahoo! etc."
India Infoline therefore decided to forward integrate into transaction services. The company began working on an internet based trading model. The idea was to develop something pioneering in-house but that actually took three years to happen. In the meanwhile, they decided to buy technology off the shelf.
In March 2000, India Infoline raised another $5 million from Intel capital and some other investors. Soon after that stock markets and NASDAQ in particular crashed. The dotcom bubble had burst and the company found itself in a crisis.
"We had set up many business lines, employed people, but there was no capital. VCs and PEs kept saying they would give us money but it took 16 months to get a small amount of additional capital."
Both Nirmal and Venkat pooled in everything they owned, Rs 3 crore, in order to keep going. "We had to scale back and shift from 'growth' to 'survival' mode from 2001 to 2003-04."
"We did everything possible..."
ALSO READ
'With entrepreneurship you can't afford a big ego'
This IIM grad opted to be his own boss
Stay Hungry Stay Foolish is published by CIIE (Centre for Innovation, Incubation and Entrepreneurship), IIM Ahmedabad and available at all leading bookstores across India for Rs 125. Website: www.stayhungrybook.com