Advertisement
September 29, 2008


Stay Hungry, Stay Foolish is the story of 25 IIM Ahmedabad [Images] graduates who chose the rough road of entrepreneurship. They are diverse in age, in outlook and the industries they made a mark in. But they have one thing in common: they believed in the power of their dreams. This book seeks to inspire young B-school graduates to look beyond placements and salaries. To believe in their dreams.

Sanjeev Bikhchandani (naukri.com), R Subramanian (Subhiksha), Rashesh Shah (Edelweiss Capital), Jerry Rao (Mphasis), Deep Kalra (Makemytrip.com), Ashank Desai (Mastek) and Nirmal Jain (India Infoline [Get Quote]) are just some of the entrepreneurs who have shared their success stories in the book. Stay Hungry Stay Foolish also looks at alternate models such as social entrepreneurship and those who believe they can be entrepreneurs without necessarily being 'owners'.

The book is authored by Rashmi Bansal, who is an entrepreneur and IIMA alumna herself. Rashmi is co-founder of JAM (Just Another Magazine) and writes extensively on youth, careers and entrepreneurship.

Presented below is an excerpt from the book: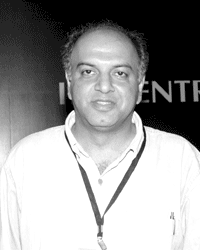 THE BOOK OF JOB
Sanjeev is India's most successful Internet entrepreneur. For close to a decade he struggled on the sidelines but never gave up on his Big Idea. In 2006, naukri.com became the first dotcom to IPO on an Indian stock exchange.
Sanjeev Bikhchandani (PGP '89), naukri.com
Chapter Introduction
Sanjeev Bikhchandani is a man with a lot of energy. He strides into my office for the interview, makes himself comfortable and spends the first 40 minutes giving gyaan on how I should run my business.
Whatever he says makes perfect sense. The entrepreneur in me is taking mental notes, but the writer exclaims, "Gosh, this guy talks a lot!" Like the Energizer Bunny he can go on and on and on. And that's actually an apt metaphor for India's most successful Internet entrepreneur. The guy started early and simply never ran out of juice.
Not when he couldn't pay himself a salary for six years.
Not when he had to take up a second job to support the family.
Not when he got funded but the whole dotcom dream went bust.
The thing is, entrepreneurship was not one of many options for Sanjeev, it was the only one. But did Sanjeev imagine that one day his company Info Edge (commonly known as naukri.com) would be a darling of the stock markets? An industry leader with a market capitalisation of $1 billion (Rs 4,300 crore) at its peak*, and an absolutely scorching pace of growth?
The answer, Sanjeev honestly admits, is "Not really."
The reason for starting his own company was independence. You are your own boss -- doing your own thing, setting your own priorities. There was the urge to create something, do something different. Success came along the way, but even through the days he ran a tiny business out of the servant's quarter, Sanjeev was happy. And that's what makes it such a fascinating story.
* as of May 2008, the market capitalisation stands at $630 mn.
Excerpt
The company started life in the servant's quarter of his father's house, at a modest rent of 800 rupees per month. There were employees to be paid and often, a cashflow crisis on the 29th -- just before payday. Sanjeev's own paycheque came from teaching at a couple of business schools over the weekend.
Luckily, there was an 'angel investor': Sanjeev's wife -- and batchmate -- who was working with Nestle [Get Quote]. That's how they managed to run the house.
What I like is how he says this, matter-of-factly. "I had told Surabhi, even before we got married that I would soon quit and become an entrepreneur. I had told her that we will be living off your salary for quite a while. She was cool with it."
The more important bit: he was cool with it. Not all men are.
The thing with entrepreneurship is you can't afford to have a big ego. You want to stay in business, you do every bit of business that comes along. You want to keep the dream afloat, you don't care what the neighbours and relatives have to say about who wears the pants in your house.
And all the while you keep searching.
For that one idea, that one product or service which is going to make your company something more than a writer of reports, a doer of projects.
That one idea which makes you a brand.
Ideas can come from anywhere. You could be sitting in a tub and have a eureka moment. Or in a bus or at your dining table. And so it was with the idea of a job database.
Sitting around in the open plan HMM office Sanjeev would see colleagues flipping through Business India, the leading business magazine of that era. In those days the back of the magazine carried 35 to 40 pages of appointment ads and Sanjeev noticed that everyone read the magazine back to front.
The eureka moment?
"Everyone likes to be in the know on jobs."
Even at a company like HMM -- a good employer -- people were keen to track what else was out there. You may not be looking FOR a job but you would look AT a job. That was a valuable insight and Sanjeev just knew it had an application somewhere.
To top it all, every week headhunters would call and offer jobs that weren't ever advertised.
So there were a bunch of jobs out there and people interested in knowing about those jobs. If somebody were to aggregate this database and keep it current and live, you would have a product which solved a problem. And it could somehow be monetised. Except there was no way to compile such a database and make it accessible easily and cheaply to users. And so it became one of those 'file and forget' ideas.
Until one fine morning...
Stay Hungry Stay Foolish is published by CIIE (Centre for Innovation, Incubation and Entrepreneurship), IIM Ahmedabad and available at all leading bookstores across India for Rs 125. Website: www.stayhungrybook.com