October 10, 2007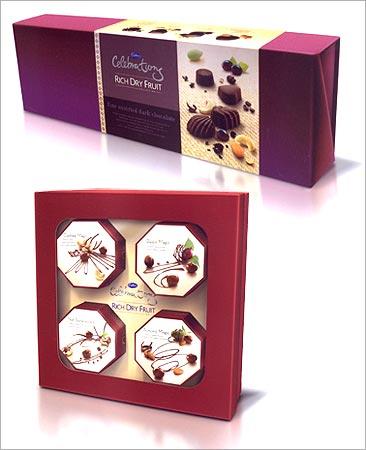 Chocolate lovers, rejoice!
Cadbury India has announced the launch of a new special dark edition to its Cadbury Celebrations Rich Dry Fruit Collection for Diwali.
The new range features in a selection of specially designed Cadbury Celebrations Rich Dry Fruit Collection Gift Packs.
The two new Cadbury Celebrations dark chocolate variants will be available in panned flavours like Hazelnut, Cashew and Almond and fine assorted flavours like Mocha Almond, Rum n Raisin, Black Forest and Cashew Cointreau.
The range is priced at Rs 425 for the panned flavours and Rs 525 for the fine assorted flavours.
They will be available in all premium retail outlets across major towns in India.
~ Do you have a new product you would like to see featured here? Send it to us with the details, the photographs and the contact details and you might just see it here.