July 10, 2007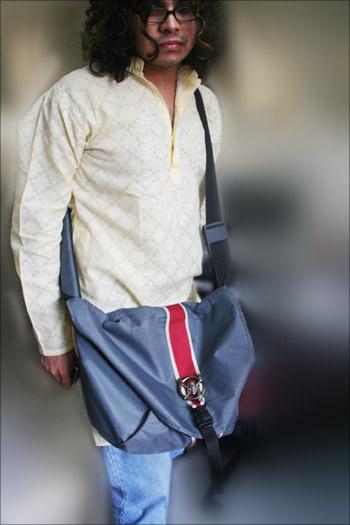 If you're looking for a bag that can accomodate everything from your brush to your books to your bulky windcheater, this unisex satchel is all you need.
Available in a wide variety of colours and materials, it's ideal for college kids and office-goers alike. Collegians can opt for satchels in funky stripes and checks or in bright colours in either cloth or waterproof materials. These can range from Rs 200 to Rs 1,000.
Professionals can pick up the more subtle leather option, which lends a trendy yet understated look. These are priced upwards of Rs 750, depending on size and quality.
When it comes to satchels, there's one to suit every taste, style and budget. So, go pick up yours today!
Photo: Dominic Xavier
DON'T MISS:
~ Accessorise: Beaded bracelets
Do you want to see your fashion fundas on rediff.com? If so, mail a pic of your favourite fashion accessory, along with a brief description of where you got it and how much you paid for it, to getahead@rediff.co.in. Make sure to include your name, age, occupation, and contact details, and we'll feature the best entries!