Advertisement
July 06, 2007


I don't believe in love at first sight, but one look at the new Samsung SGH-E840 cell phone will have most of you head-over-heels in love.

This phone is all about style and fashion and sells itself well in these departments with its slim looks (its just 10.6 mm thick) and great mirror display. The metal finish enhances the sleekness, handsomely paired with tempered glass. But looks will onlyget you so far, so let's get down to its features.

This slider phone sports a 2.2-inch TFT color screen with a great display resolution. The top panel has a few touch-sensitive keys just below the display screen that perform basic actions such as receiving and rejecting calls, accessing the menu etc.

The camera on this phone is a two-mega pixel digicam with decent clarity. The manufacturer provides the user with 70 mb of inbuilt memory, which can be upgraded with a microSD card with a capacity of up to two gigabytes.

When it comes to music, the E840 is very music friendly, supporting most of the available music formats -- MP3/ WMA/ AAC+/ AAC. It also offers a music library and FM radio.

Another feature to be noted is that this phone has the latest web browser -- the NetFront v3.4 -- an embedded internet micro browser specifically made for handset use.

Among the regular features, this phone supports Bluetooth 2.0 and USB 2.0 connectivity, which come in handy for moving contacts, images and other files around; GPRS and EDGE are also available as alternative connectivity options.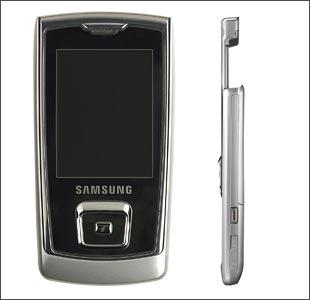 The phone supports a document reader, speaker phone, document viewer and a mobile tracker feature to help you find your phone if you happen to lose it.
Weighing in at a little over 90 gms, it provides a talktime and standby time of three hours and 8-10 days respectively.
With all the great features it does offer, there are a few gaps in its usability. The phone lacks 3G capability and infrared port and the push-to-talk capability.
Though it carries a two-mega pixel camera, in my opinion, the Sony Ericsson phones with similar configurations click better pictures -- I'm not too concerned about this however. Afterall, if you want the perfect photograph, you'd be better off investing in a camera instead.
Personally, while this phone is one of the best looking phones around, its functionality doesn't really match up. For the price of about Rs 11,000, my search for a value-for-money cell phone would not end with the E840.
Got a gadget that you loved or hate? Something you paid a lot of money for, that you now want to throw against a wall?
Your reviews may help other readers make up their minds about buying a gizmo or gadget they have set their hearts on. This is your chance. We are inviting readers to send in their reviews along with the photographs and/or videos of their favourite purchases at GizmoWatch@rediffmail.com