January 02, 2007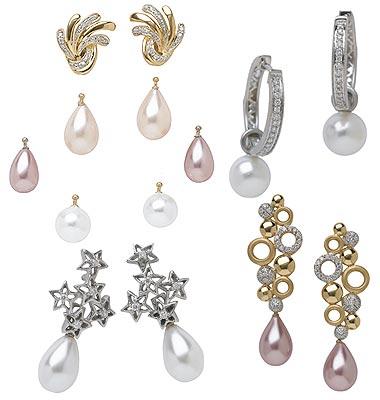 Your mom's pearl jewellery may be elegant, but not trendy enough to complement your latest ensemble. Yet, if you love the old-world charm of pearls, then a new range of pearl pendants and earrings by Hammer Plus Jewellery Pvt Limited, may appeal to you.

In MOTIMMO -- Pearls on the move, you can even replace a given set of pearls with others of a different size, colour and shape. Each MOTIMMO design can accommodate three pearls. The collection has 20 elegant designs in 18 karat yellow and white gold with fine diamonds.

MOTIMMO has been designed to appeal to youngsters who want light-weight, elegant, trendy jewellery.

Price-wise, MOTIMMO earrings begin at MRP Rs 10,500 in VS quality diamonds and Rs 10,900 upwards in VVS quality diamonds.

MOTIMMO pendants begin at MRP Rs 5,300 upwards in VS quality diamonds and Rs 5,600 onwards in VVS quality diamonds.

Note: VVS (Very Very Slightly) is a more superior quality as compared to VS (Very Slightly).

The MOTOMMO collection is available at Jaganath Gangaram Pednekar, TBZ West End, Parag Jewellers and S Zaveri & Sons Jewellers in Mumbai.



Note: Please note that all e-mails sent to getahead@rediff.co.in are in the public domain unless otherwise specified. These e-mails can, and may, be posted on rediff.com, unless you clearly indicate you do not want your e-mail to be published.