Stuart Carlisle scored his maiden Test hundred to help Zimbabwe post a respectable total of 256 for eight on the opening day of the second Test with Australia on Friday.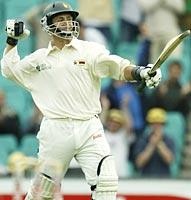 Carlisle bettered his previous high score of 77, made against India two seasons ago, to finish with 118 before falling just before the close of play.
Zimbabwe had seemed to be heading towards a lower total after losing Dion Ebrahim, Trevor Gripper and Mark Vermeulen in the first hour before Carlisle came to the rescue.
The 31-year-old shared half-century partnerships with Tatenda Taibu and Heath Streak as he slowly set about rebuilding the innings in front of a dismal Sydney Cricket Ground crowd of 5,455.
He had a let-off on 36 when Matthew Hayden dropped him at slip but hardly played another false shot against an Australian attack weakened by the absence of Shane Warne, Glenn McGrath, Jason Gillespie and Stuart MacGill.
The Australians began well when paceman Brett Lee bowled Ebrahim for nine in the fifth over of the day with a delivery that beat him for pace.
Gripper followed shortly after when he was caught by wicketkeeper Adam Gilchrist for 15 then debutant Brad Williams grabbed his first Test wicket when he trapped Vermeulen lbw for 17 with the total on 47.
Williams captured a second wicket after lunch when Craig Wishart nicked one behind then leg-spinner Brad Hogg chipped in to dismiss Taibau for 27 when he top-edged an attempted cut.
SAFETY FIRST
But Carlisle continued to frustrate the Australians with his safety-first approach, reaching his 50 off 96 balls when he took a single off Hogg then going on to bring up his hundred in 261 minutes when he flicked Williams behind square for two, punching the air with delight.
Carlisle and Streak added 67 for the sixth wicket before Streak went for 14, lbw to Hogg, triggering a minor late collapse.
Test debutant Gavin Ewing went for two when he edged Lee to slip then Carlisle fell when he fended Bichel to Ricky Ponting at slip, ending an innings that spanned almost six hours and featured 13 boundaries and two sixes.
Andy Blignaut was not out nine at stumps with Ray Price unbeaten on seven.
Australia made three forced changes to the side that won the first Test in Perth on Monday by an innings and 175 runs with Williams, Hogg and Simon Katich replacing Jason Gillespie, Stuart MacGill and Darren Lehmann.
Zimbabwe made two changes with all-rounder Sean Ervine ruled out through injury and Craig Evans dropped. Ewing and Blessing Mahwire came into the side.
Scoreboard:
Zimbabwe first innings:
D.Ebrahim b Lee 9
T.Gripper c Gilchrist b Bichel 15
M.Vermeulen lbw b Williams 17
S.Carlisle c Ponting b Bichel 118
C.Wishart c Gilchrist b Williams 14
T.Taibu c Gilchrist b Hogg 27
H.Streak lbw b Hogg 14
G.Ewing c Martyn b Lee 2
A.Blignaut not out 9
R.Price not out 7
Extras: (b-4 lb-10 w-3 nb-7) 24
Total: (for eight wickets, 90 overs) 256
Fall of wickets: 1-15 2-45 3-47 4-95 5-151 6-218 7-222 8-243.
To bat: B.Mahwire
Bowling: Lee 20-4-64-2 (nb-3), Williams 18-4-43-2 (nb-1 w-1), Bichel 21-7-59-2 (nb-3 w-1), Hogg 17-4-35-2 (w-1), Waugh 4-0-7-0, Katich 7-0-25-0, Martyn 3-1-9-0.
Australia: S.Waugh (captain), R.Ponting, J.Langer, M.Hayden, D.Martyn, S.Katich, A.Gilchrist, A.Bichel, B.Lee, B.Hogg, B.Williams.