India have the combination to lift their first ODI World Cup trophy in 28 years but the form of temperamental batsman Yuvraj Singh and explosive all-rounder Yusuf Pathan will prove decisive, says 1983 World Cup winning team's member Dilip Vengsarkar. 
Vengsarkar feels the team under Mahendra Singh Dhoni has the credentials to go all the way in the event commencing February 19 in the sub-continent. 
"India is numero uno at present. It's one of the best teams in world cricket at present. India will be playing at home and that's a huge advantage. Unlike the team of 1983, India has been the number one team for the last four years or so and are the strong favourites to win the World Cup. We had a similar sort of combination in 1987 but failed in the semis," Vengsarkar told PTI.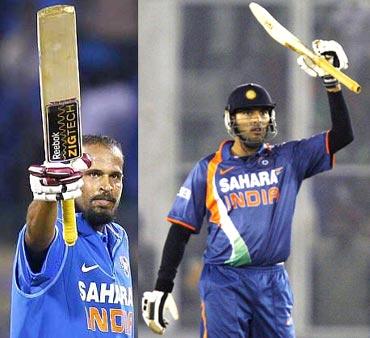 Asked about the x-factor in the team, he said it could be either Yuvraj or Pathan, both powerful hitters of the ball. 
"It will be either Yuvraj or Yusuf Pathan," he said. Vengsarkar, a former chairman of the selection panel, said the Indian batting line-up has a settled look with a combination of youth and experience. 
"We have a very strong batting line up with (Virender) Sehwag, (Sachin)Tendulkar, (Gautam) Gambhir, Yuvraj (Singh), Yusuf (Pathan) all in great form," he said. Vengsarkar felt the wickets at this time of the year would help India's slow bowlers in the middle overs. 
"They will be drier in the month of March and that will surely help Indian spinners in the middle overs," he said. Vengsarkar also tipped holders Australia, who have slid steeply down the Test ranks, Sri Lanka and South Africa to make the last four in cricket's showpiece. 
"India, Sri Lanka, Australia and South Africa," he said when asked who will make it to the semifinals. 
Looking back at the 1983 World Cup triumph, Vengsarkar said the turning point of the campaign by Kapil's Devils that ended with the epoch-making 43-run shock victory over then defending champions West Indies in the summit clash of the World Cup was the peaking of the squad at the most opportune time. 
"I guess India peaked at the right time. Surely, the win in the first game versus the West Indies (was crucial) and the  form of every batsman and bowler was important to beat the Australians and England later to reach the final. It got the team into the winning mode," said the former India captain. 
Kapil Dev and his men turned the formbook upside down by defeating the mighty Clive Lloyd-led West Indies twice in three encounters during the mega event in England, including in the final on June 25 at the Lord's to usher in a new era in Indian cricket.