Indian captain Mahendra Singh Dhoni believes in keeping his emotions under check and as a leader, he wants to guard Yuvraj Singh from the hype surrounding the World Cup hero's comeback against New Zealand in the first Twenty20 match in Vizag on Saturday.
"I feel we need to keep as normal as possible. Don't create the hype around him," Dhoni told reporters during the pre-match media interaction.
On the eve of the match, it was Yuvraj Singh, who remained the centre of attention during India's practice session. From the scribes, photographers, to the ACA officials, each and every movement made by Yuvraj was noticed with great interest.
And Dhoni feels that the manner in which Yuvraj's comeback from a rare germ cell cancer is being covered, it will only increase the burden on the cricketer.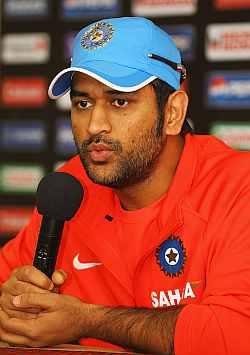 "The whole world is talking about his comeback in a manner as if they are helping him out. In a way, it puts the burden on the individual. It's important to keep it as normal as possible. Not to let him think what has really happened in his life," he said.
Terming Yuvraj as a strong character, Dhoni said that what is important now is that the stylist left-hander should enjoy his second innings.
He seemed to be at ease as he middled most of the deliveries and also launched into spinners Piyush Chawla and Ravichandran Ashwin.
"He has fought through it as he is a strong character. As I said, he needs to turn up and just enjoy his cricket. That's what he has done from age-group cricket till now. So he should not think about anything else," Dhoni said.
"The manner in which he joked and fooled around seemed as if he has never ever been away from his teammates. He looked happy and while enjoying a game of soccer, he even showed his predatory instincts by scoring a goal.
"Right now, we had a soccer session, followed by a net session. He looks very joyful," he said.