Sri Lanka batsman Mahela Jayawardene says a dream century in a World Cup final was no consolation to losing the coveted trophy and he would have swapped his ton with the championship medal any day.
Jayawardene's flawless 103 not out from 88 balls went in vain as India overhauled the Sri Lankan target of 275 to win the World Cup summit clash in Mumbai on Saturday. His century was the first instance of a batsman scoring a century in a World Cup final in a losing cause.
"I would swap the century for a championship medal any day," Jayawardene told the official ICC website.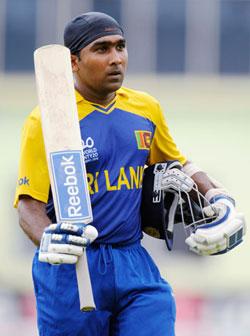 He said India's batting line-up proved too strong while his side's bowling attack lacked penetration.
"We fought well but it wasn't enough. We had to take wickets to control Indian batting line-up. We got a couple of early wickets but we couldn't get anything going after that. We didn't have the penetration that we normally do, and they batted very well," he said.
The former captain said he was in good knick in the final match but disappointed to end up at the losing side.
"When I went in it felt really good, got a couple of loose balls and I struck a few boundaries. That gave me the rhythm and momentum. When Kumar got out I knew I had to bat the 50 overs. With the Powerplays you know you can catch up. I'm quite happy with the effort but unfortunately we ended up on the losing side."
Asked about his own future with Sri Lanka, Jayawardene, who turns 34 next month, said he was keen to continue playing.
"It's important for us to mould the next generation of cricketers in Sri Lanka as well. I'll try and push myself to do that and be better than I am right now. There'll come a day when I'll feel I won't be able to contribute to this team, that's when I'll call it a day."