Mindful of the chokers tag that has sat on them since their 1992 World Cup appearance, South Africa head off to the sub-continent for the quadrennial mega event starting later this month, with captain Graeme Smith confident of his side possessing a stronger mental frame than ever before to aim for its maiden title. 
South Africa faltered in crucial high-pressure matches in the five World Cups they had taken part so far, including at home in 2003, with the Proteas losing three semifinals and a quarterfinal when they were tipped favourites each time.
Smith said the players have done enough in their build-up to come out successful in the unyielding pressure situation in the sub-continent with their recent good form and bonding sessions.
"That's the nature of knockout tournaments, that's what makes it exciting and that's what makes it tough. As an international sportsman, pressure is a part of your life. You learn to deal with pressure," Smith said today before leaving for India.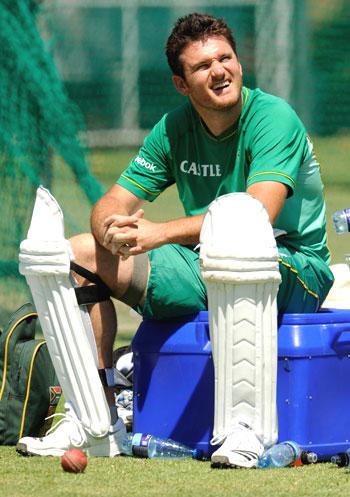 "We've had some good chats and really good bonding sessions. We're as best prepared as we can be for the World Cup. This team is in a good space and we're looking forward to getting going, getting some good results and on a roll. There's some exciting things to come from this team," said Smith who will relinquish one-day captaincy after the February 19-April 2 mega event. 
He said he was looking forward to "leaving it all out there" at his final tournament as ODI captain. Smith said his team is better prepared than 2007 and that they have more options now and more relaxed. 
"We were a little bit too rigid (in 2007) in terms of players and squad. Moreover, we stuck to a similar style of play in 2007. We have a lot more options and we can be more unpredictable now," he said. 
"Yes, you have to want to win the World Cup and that has to be your mindset, but we are much more relaxed in terms of the way we want to do things," he said. 
"We want to go step by step and we are not thinking about the quarters or semis now. We want to do well in the warm-up matches and that will also help us to do well in the tournament. We want to keep things simple," said the 30-year-old right-handed opening batsman who will be appearing in his third World Cup. 
He said that the team's preparation is different this time due to the presence of young players. Eleven players in the 15-member squad have never played in the World Cup and many of those make up the core of the Proteas team.