A 'war' is brewing between the Indo-Pak couple of Sania Mirza and Shoaib Malik ahead of next week's high-voltage World Cup semi-final between India and arch-rivals Pakistan in Mohali.
The much-awaited clash of the neighbours seems to have caught the couple in a battle of loyalty, with Indian tennis diva Sania coming out strongly in support of her nation, and hubby Shoaib cheering for Pakistan.
"I support India and shoaibmalik will support Pakistan as usual!the war is on," said Sania.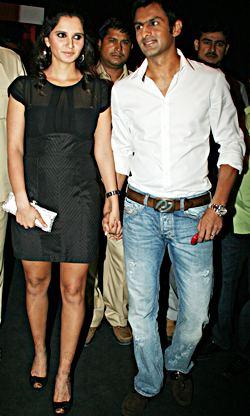 "Be ready baby its on lol hahaha," reacted Malik.
The mouth-watering encounter between the two neighbouring countries has set social networking site Twitter abuzz with sportspersons and Bollywood personalities hailing Mahendra Singh Dhoni's men and wishing them luck for the important match.
"There we go:) enjoy it boys.. You're half way there... We are dancing in Miami," tweeted Indian tennis star Mahesh Bhupathi.
Bollywood actress and co-owner of Rajasthan Royals, Shilpa Shetty, wrote on her Twitter page, "Yesssssssssssssssss We did it, good job team india...fabulous work Yuvi:)In the Semis...Bring it on, yipeeeeeeeeee!."
"India-Pak Semis will be a great match to watch in Mohali. Great win. Great Game. Congrats to the Team for a brilliant performance. Look forward to the Semi finals," tweeted former Indian Premier League (IPL) chairman Lalit Modi.
England's Kevin Pietersen, who was forced to cut short his World Cup campaign for hernia surgery, had a word of appreciation for Yuvraj Singh.
"Congrats India!! @yuvsingh09 on fire.. ?" the batsman tweeted.
India set up an exciting semi-final clash with Pakistan after scoring a five-wicket win over Australia at Ahmedabad's Motera stadium on Thursday.
Chasing a modest total of 261, Dhoni's men held their nerve to overhaul the target with 14 balls to spare. Yuvraj Singh (57 not out), Sachin Tendulkar (53) and Gautam Gambhir (50) were the star batting performers.
Photograph: Getty Images