- Scorecard | Live update
Sachin Tendulkar reached another milestone on Sunday. He became the highest century-maker in World Cup history after scoring his fifth hundred in the prestigious event.
The 37-year-old reached the landmark during the Group B clash against England when he glanced burly paceman Tim Bresnan for a boundary towards the fine leg region off the first delivery of the 35th over.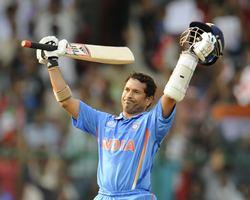 It was his 47th ODI century and 98th overall.
Former India captain Sourav Ganguly, current Australia captain Ricky Ponting and his former teammate Mark Waugh have all scored four World Cup hundreds.
With Ganguly and Waugh retired, it is only Ponting who has a chance to match or surpass Tendulkar.
Tendulkar scored 120 runs from 115 balls and the knock was adorned with five sixes and 10 fours.
Playing his sixth World Cup, he also holds the records for most runs and most half-centuries in the flagship event of the ICC.
He has accumulated 1944 runs in 38 matches and scored 13 fifties so far. Ponting follows with 1577 runs in 41 matches.
Ganguly is the only other Indian who has scored more than one thousand runs in World Cup matches.
He scored 1006 runs in 21 matches and stands 11th in the list of highest run scorers in the World Cup.
During the course of his innings, Tendukar shared a magnificent 134-run partnership with for the second wicket with Gautam Gambhir, who scored 51 runs.
- Join us in congratulating the batting maestro. Post your messages