They could not secure victory even after setting England a mammoth 339-run target. But India skipper Mahendra Singh Dhoni was happy to escape with a tie result, as he felt at one stage the English appeared clear favourites to win the match.
- Scorecard | Images | Live update
Both teams scored 338 runs in the Group B clash, which was only the fourth tied result in the history of the World Cup.
England skipper Strauss scored a magnificent 158-run knock and along with Ian Bell (59) almost pulled off an incredible win for his side while chasing the huge total.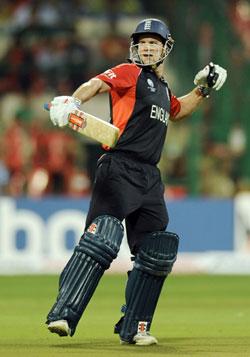 "The way it was going, it seemed England would win it. So, happy with the tied result. It (the result) may reflect as a win in the (points) table," Dhoni said after the match.
"The way Strauss and Bell were going, it looked it would be all over by the 48th over… until Zak (Zaheer Khan) came, bowled brilliantly," Dhoni said.
Dhoni though was also disappointed that their attack could not defend such a big total.
"I think so (it was defendable). If 338 is not enough then perhaps in every match you will have to score 350-360 runs, which will be very tough to do.
"It was a different wicket and pretty flat in the second innings, but then there was more pressure on England's batsman. The lower order contributed, Swann, Bresnan and one more guy, Shehzad, all played well," he said.
Strauss, who was adjudged Man-of-the-match for his scintillating knock, though was full of mixed feelings after the match.
"In a way, yes, no...," he said, when asked if he was happy with the result.
"We were in a great position to win. Then we had a shocking powerplay (when both he and Bell got out) and India were favourites then. Some ways we are happy and some ways distraught," the left-handed batsman said.
Strauss also said the thrilling game was good advertisement for cricket.
"It was a great game (for One-day cricket). There was a lot of pressure. Some way it was disappointing and some way it was a privilege to play such a game. It was an outstanding wicket to bat on," he said.
India pacer Zhaeer Khan, who dismissed both Strauss and Bell on consecutive balls to bring India back in the match, said, "The tie result explains everything. Strauss batted well and it was electrifying till the end."