After claiming the first hat-trick of the 2011 cricket World Cup, West Indies pacer Kemar Roach said his hard work in the past few months is paying off well and he is ready for bigger challenges ahead.
Roach took six wickets for 27 runs, his best figures in ODIs, including a hat-trick, to power the West Indies to a comprehensive 215-run win over the Netherlands in their Group B clash in New Delhi.
Roach dismissed Pieter Seelaar, Bernard Loots and Berend Westdijk with the first three balls of the 32nd over to seal his side's comfortable win.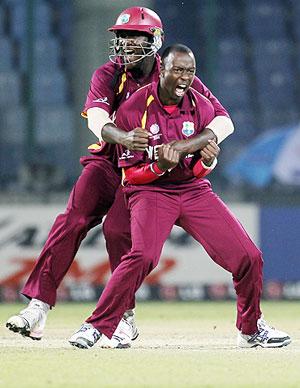 "Lots of confidence, happy with the performance. The ability to keep my pace up and be accurate is the biggest positive for me. The surface was slow, so our plan was to bowl straight and fast.
"We still have a job ahead of us, and I am ready for it," Roach said after the match.
The West Indies, who had earlier lost to South Africa, next take on Bangladesh in their next match on Friday in Mirpur.
Victorious captain Darren Sammy said the side is determined to do well following injury to inspirational vice-captain Dwayne Bravo, who has been ruled out of the rest of the tournament.
"We had a meeting following the injury to Bravo, and he told the guys how important it was to play well in the World Cup. The pain in his face was obvious, and it inspired us to play well," Sammy said.
"We would have batted first if we had won the toss. Great, brilliant from Roach. We had to come here and show our worth, and win convincingly and Roach put his hands up. We look to take away the positives from this game to Bangladesh."
Losing skipper Peter Borren admitted his side could not match the expectations after putting up a brilliant show against England in their tournament-opener.
"I don't think the wicket really worsened, if anything, it stayed lower in the first innings, showing just how much we were outplayed today. The guys didn't turn up today after a decent performance against England. Seelaar's bowled well in both matches, he kept Gayle quiet in the afternoon, so credit to him," he said.