Police clashed with hundreds of fans seeking tickets for India's World Cup showdown against South Africa on Tuesday, the incident again highlighting the country's inability to handle the huge demand for seats.
Twelve days after similar scenes were witnessed in Bangalore, stick-wielding police battered fans in front of the ticket counter at the Vidarbha Cricket Association Stadium.
Spectators had been queuing up behind wooden barricades since Monday evening after learning that a limited number of tickets would be made available.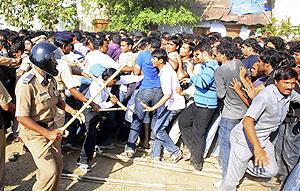 A Reuters witness said sections of the crowd became restless on Tuesday morning and started climbing over the barriers, breaking them down, which forced the police to take action.
The ticket counter remained closed as police were seen trying to control the crowds swarming outside the area, as they hoped to secure seats for Saturday's Group B match.
The International Cricket Council (ICC) declined to discuss the matter while India's own cricket board (BCCI) could not be reached for comment.
Ticket sales for the February 19-April 2 tournament have proven to be a major headache for Indian organisers, who are unable to meet demand for the high-profile matches, especially those featuring the home team as well as the April 2 final in Mumbai's Wankhede Stadium.
PAWAR ACCUSED
Tuesday's episode is likely to raise further questions about the way tickets are being distributed in the cricket-crazy nation.
Only a small quota for the major matches are being sold directly to the public, while the rest are distributed among the ICC and clubs affiliated to the local cricket associations.
Last month, the ICC accused its own president, Sharad Pawar, of mismanaging the way tickets were being distributed and warned that tickets for the final should not be sold at the box office because the high demand created the "potential for chaos and physical injury when the box office sales open".
The official online website selling just a 1,000 tickets for the final crashed after 10 million hits were recorded in just 20 minutes by fans desperate to see the final. As a result, a ballot system was later announced to cope with the huge demands.